Synexus Clinical Research

Working remotely as a Global Social Media Strategist for Synexus Clinical Research, I was responsible for creating and project managing the delivery of a global social media strategy and developing numerous content assets; written copy, graphic design, photography and video for eight country specific websites and one corporate website. I was also responsible for creating and delivering a comprehensive education and training program as part of the strategy.

The social media strategy bridged the gap between offline and online experiences, with the goal of optimising the company's contribution of getting new medicines to market. The social media strategy promotes authenticity in everyday communications, with colleagues, with health care professionals, with sponsors and with clinical research patients.

I advised on the procurement of enterprise social listening & engagement SaaS. The software enables patient engagement teams to monitor social media and online forum discussions around specific medical conditions, and to engage where appropriate. The software also assists with reputation management.

I led the internal creative teams, marketing & communications specialists and patient engagement teams across 8 countries to develop and publish a variety of search engine optimised and compliance approved content, which also adhered to specific brand guidelines. The social media strategy increased patient sign up for clinical studies, ultimately enabling new medicines to come to market within specific timescales. I was instrumental in delivering successful patient research studies relating to osteoporosis and asthma.

During my time with Synexus I also beta tested a 3rd party app; 'Health-Unlocked', and I represented Synexus at the 9th Clinical Trials Summit in London, where I hosted an international panel discussion on Social Media in Health Care.

My social media strategy also helped to strengthen the Synexus employer brand.

Testimonial below...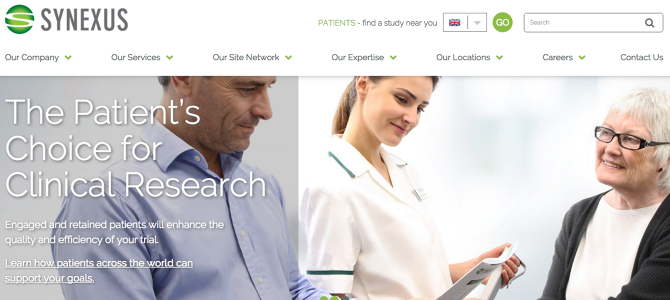 "During his time at Synexus, Shayne has developed and implemented a Global Digital Strategy that incorporates social media, content marketing and SEO.


Shayne has also supported and trained employees across 8 countries to embed our Social Media marketing campaign to gain competitive advantage.


Since Shayne's role was introduced we have seen our LinkedIn Corporate profile flourish and our followers have trebled in numbers, which has strengthened our Employer Brand.


Shayne has also supported our annual prestigious awards ceremony attending to shoot digital footage, which was used internally and externally for promotion of the event.


Shayne is a creative thinker with a true passion for his line of work."
~ Wendy Ingham, Group HR Director, Synexus Clinical Research Ltd.