Plough One's Own Furlough


I was invited to contribute to a project relating to allotment gardening during the Covid-19 global pandemic.

The project is being run by Dr Mike Sheaff, Associate Professor of Sociology at the University of Plymouth.

The project aims to collect a record about how people use allotments during the pandemic, specifically looking at the impact on mental and physical health.

This is the record of my allotment use during the lockdown. It reads in reverse order, much like a blog...


---
Allotment Journal March - May 2020


"Hold to the now, the here, through which all future plunges to the past..." ~ James Joyce


---
300520

Plymouth, Devon //
Coronavirus disease (COVID-19) Pandemic: Day 80 // UK Lockdown: Day 68


Today we took delivery of a greenhouse/polytunnel, which I constructed relatively easily. There's room for 3 grow bags along the left hand side and I added a trench on the right for growing directly in the ground.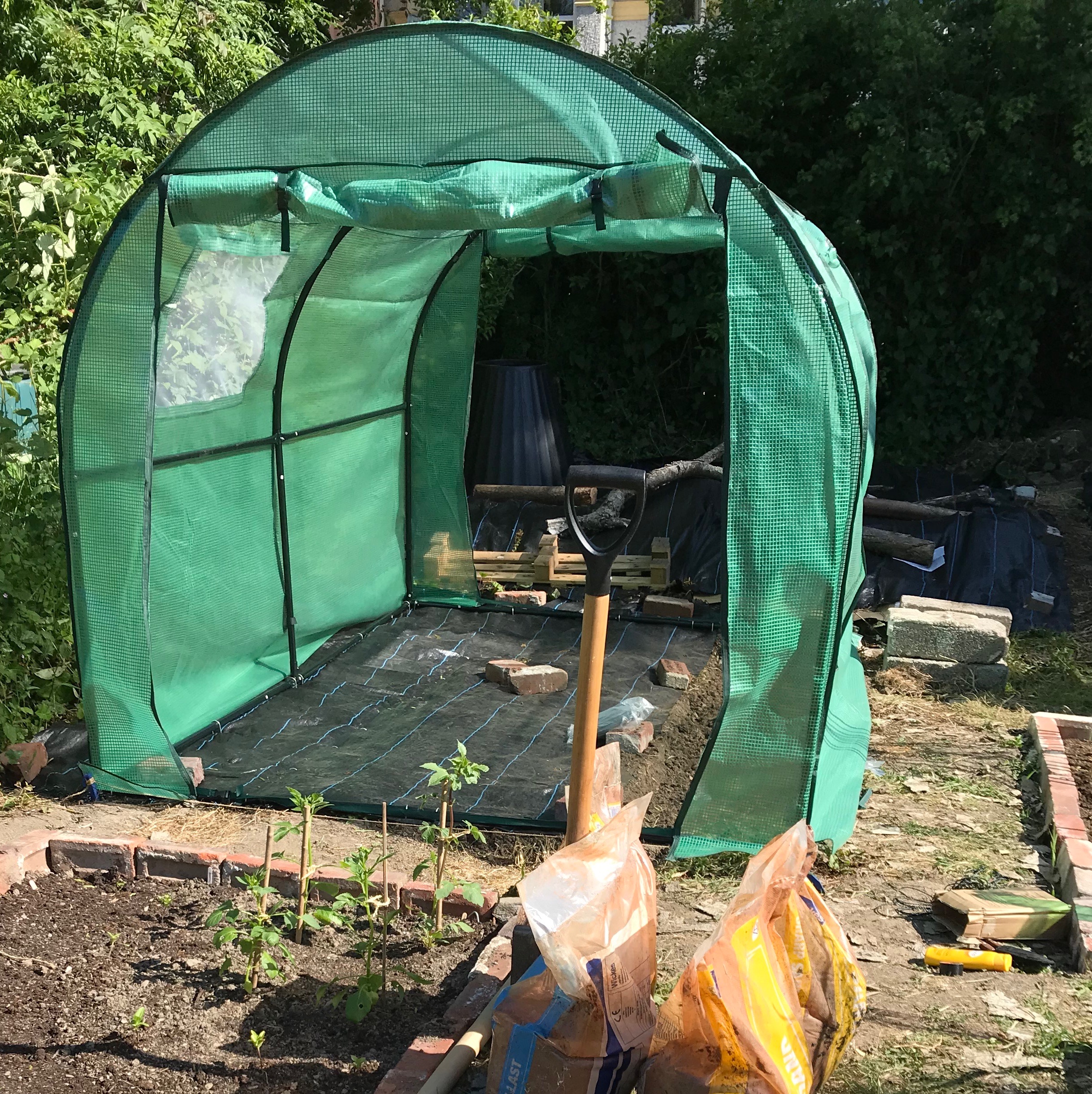 ---
240520

Plymouth, Devon //
Coronavirus disease (COVID-19) Pandemic: Day 74 // UK Lockdown: Day 62


Sawing up an old pallet, I make a seed tray.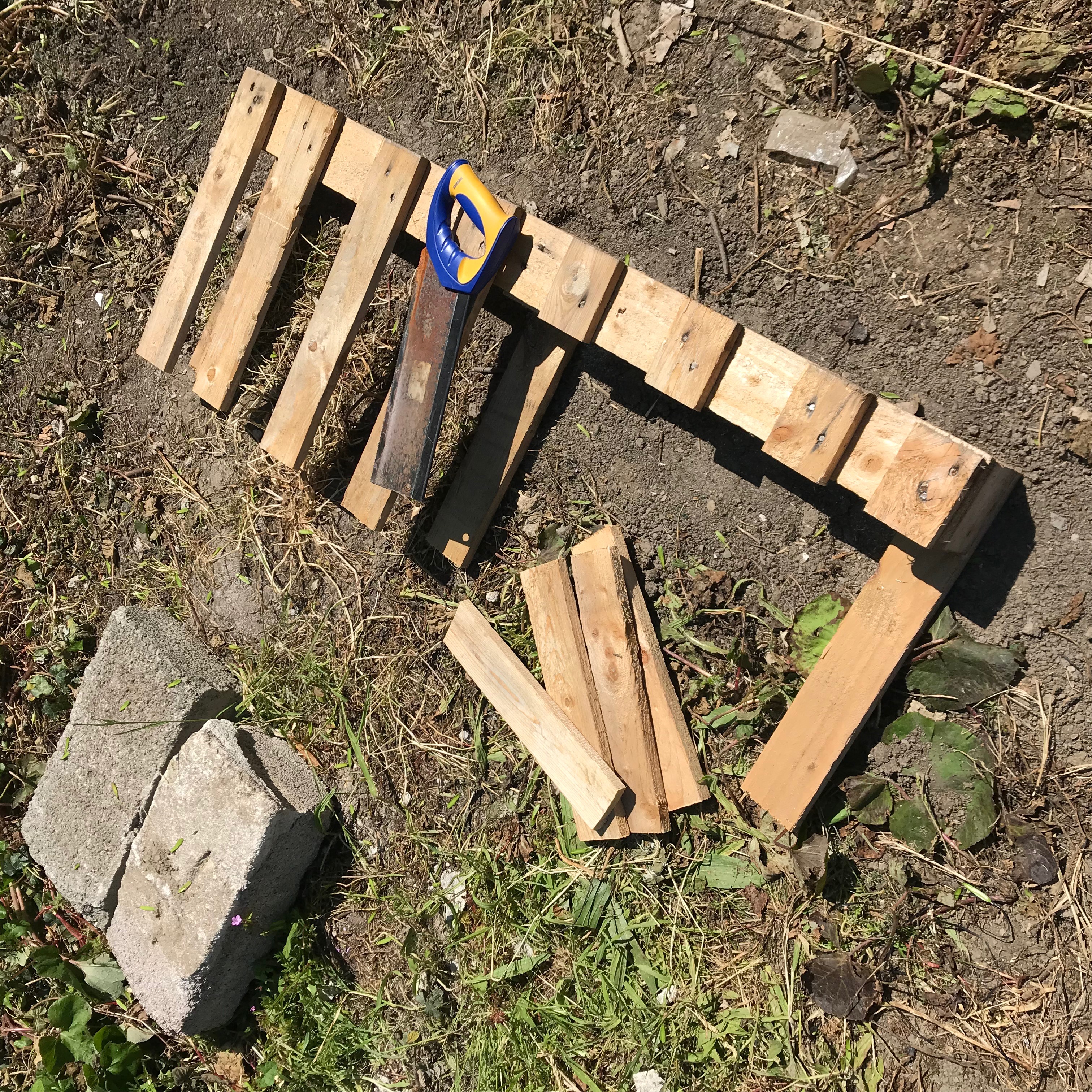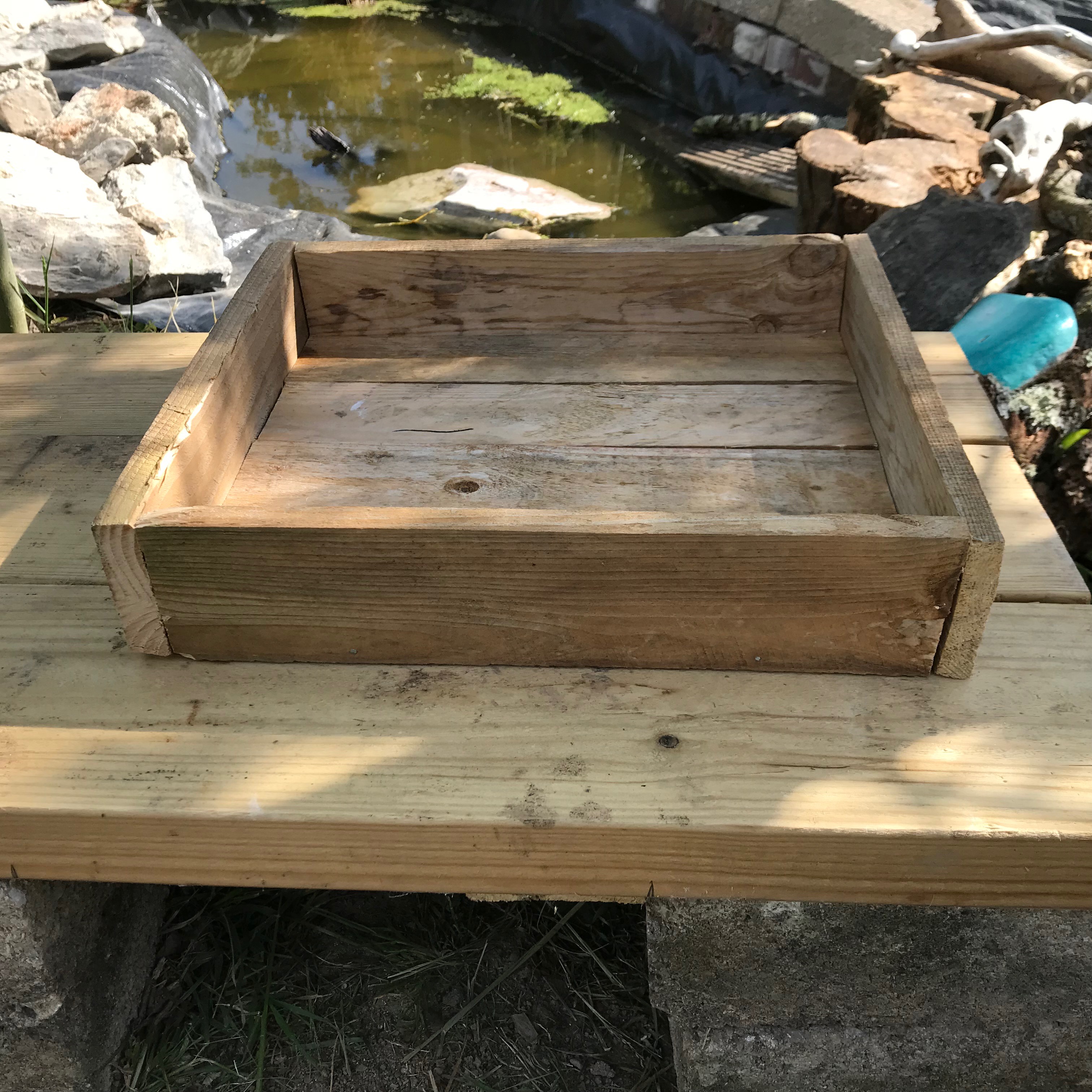 Incredibly satisfying to make something with one's own hands, however shonky the final result!


---
170520

Plymouth, Devon //
Coronavirus disease (COVID-19) Pandemic: Day 67 // UK Lockdown: Day 55


Pond life! Almost...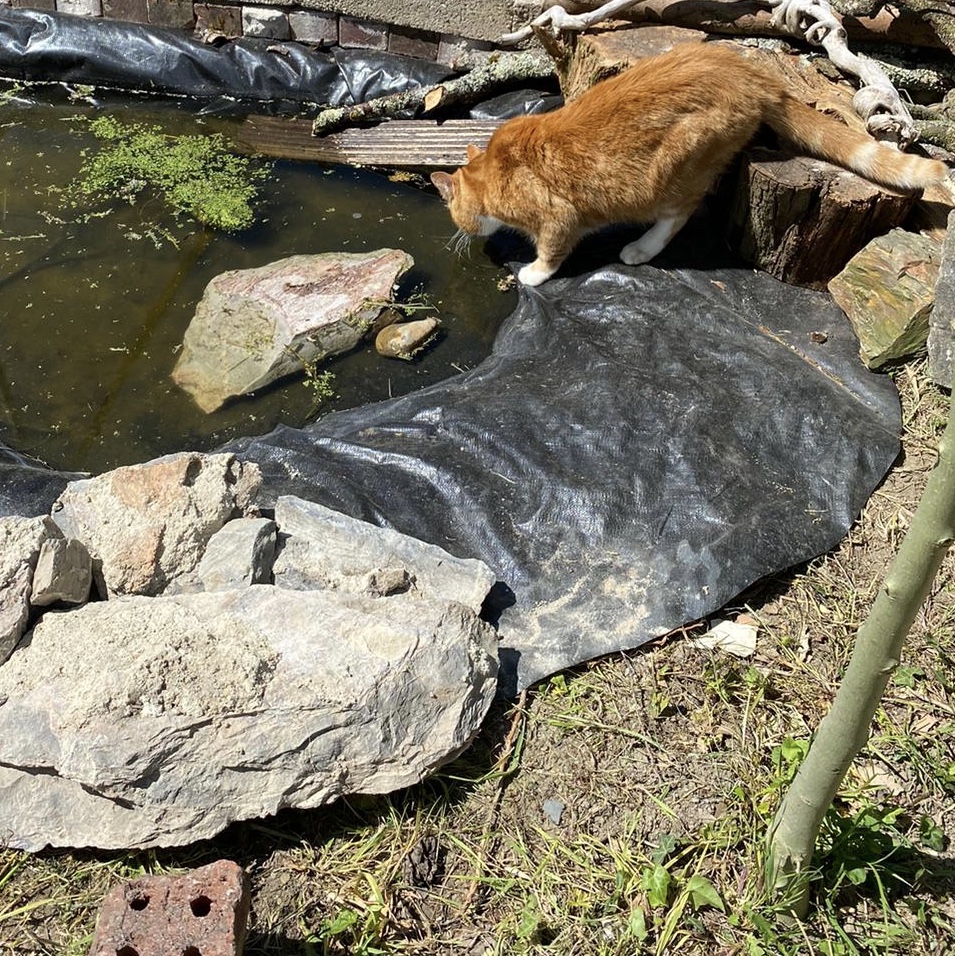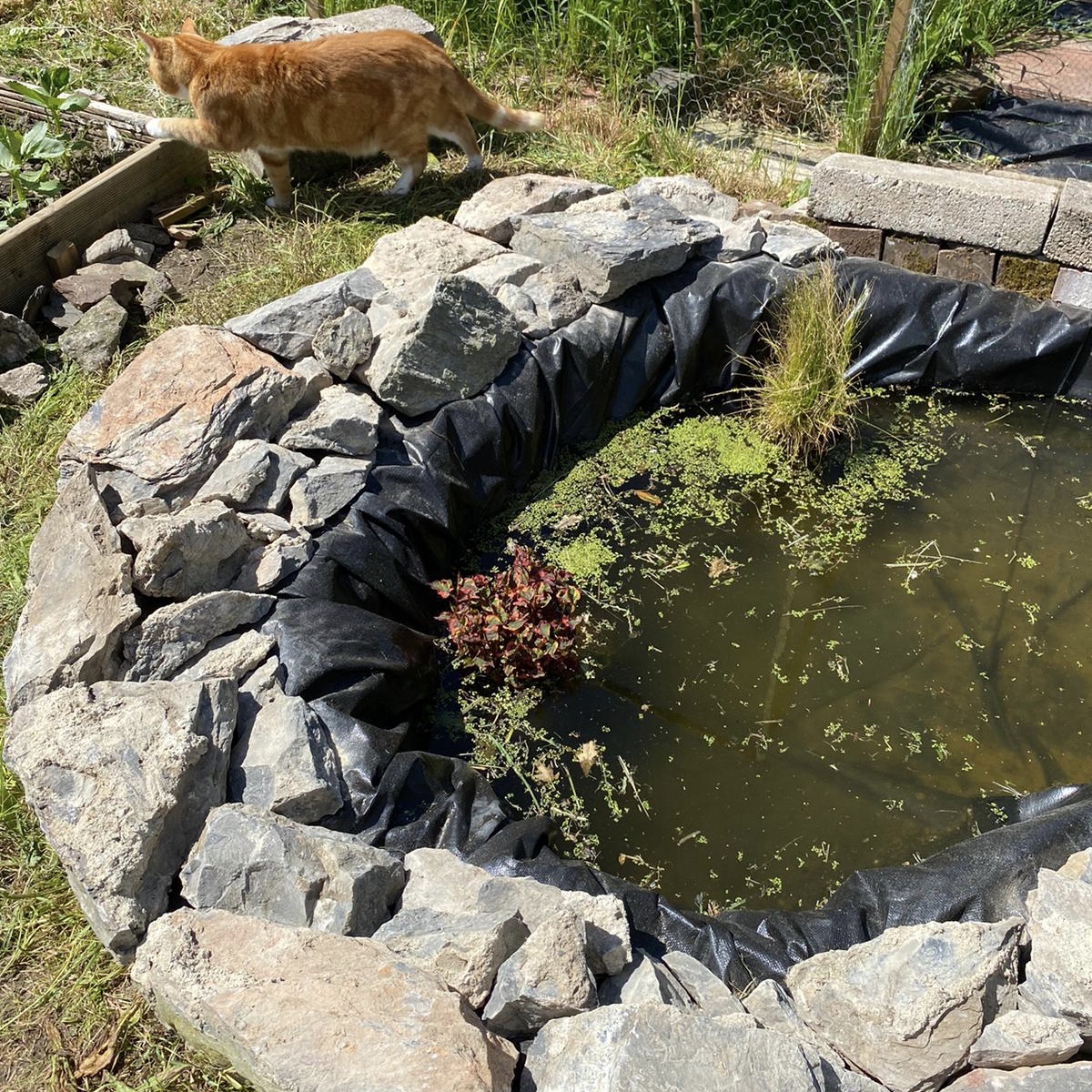 We edged the pond with the remains of an old Victorian garden wall. There's a little pile of logs for wildlife too.


---
150520

Plymouth, Devon //
Coronavirus disease (COVID-19) Pandemic: Day 65 // UK Lockdown: Day 53


Plagued by bad dreams in the night, I feel a bit out of sorts this morning.

As soon as I walk through the gate to the allotment I can feel its healing properties beginning to take effect.

I set about repurposing an old pallet and make a cut flower bed for Sarah.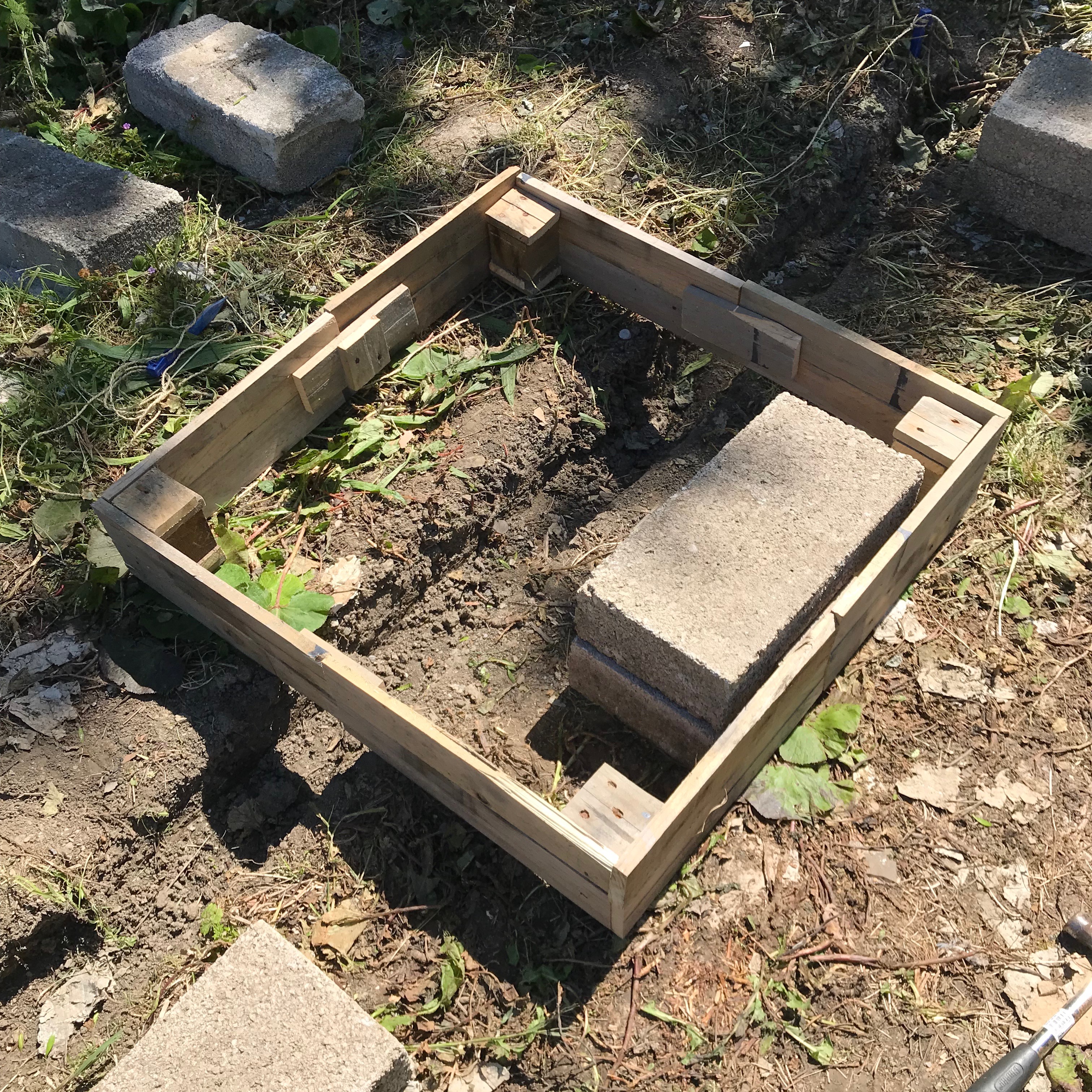 Being surrounded by nature and physically making something with my hands has an incredibly therapeutic effect.

I leave the plot in a far better frame of mind than when I arrived.


---
120520

Plymouth, Devon //
Coronavirus disease (COVID-19) Pandemic: Day 62 // UK Lockdown: Day 50


I take a machete to the butterbur growing at the far end of the plot.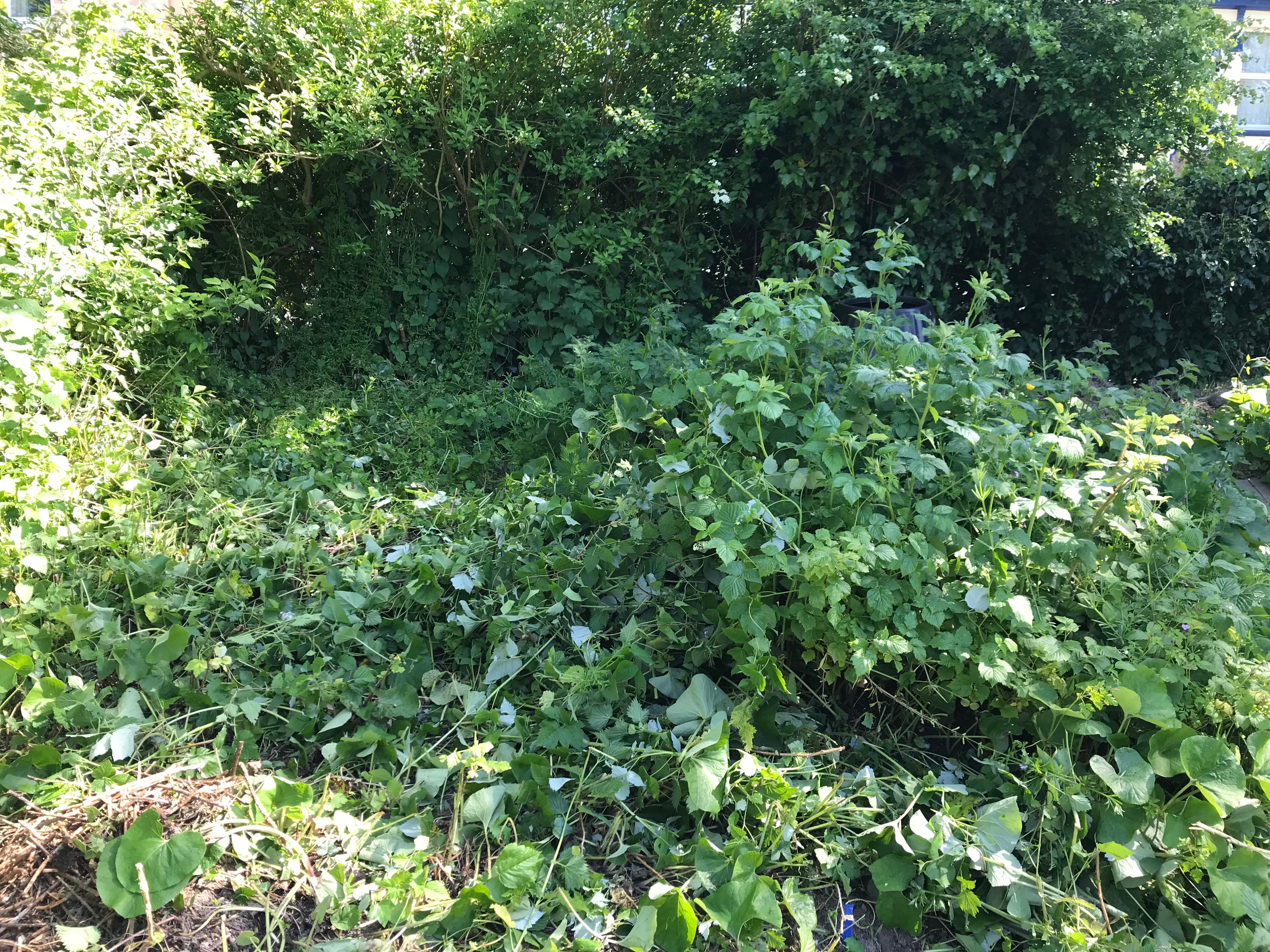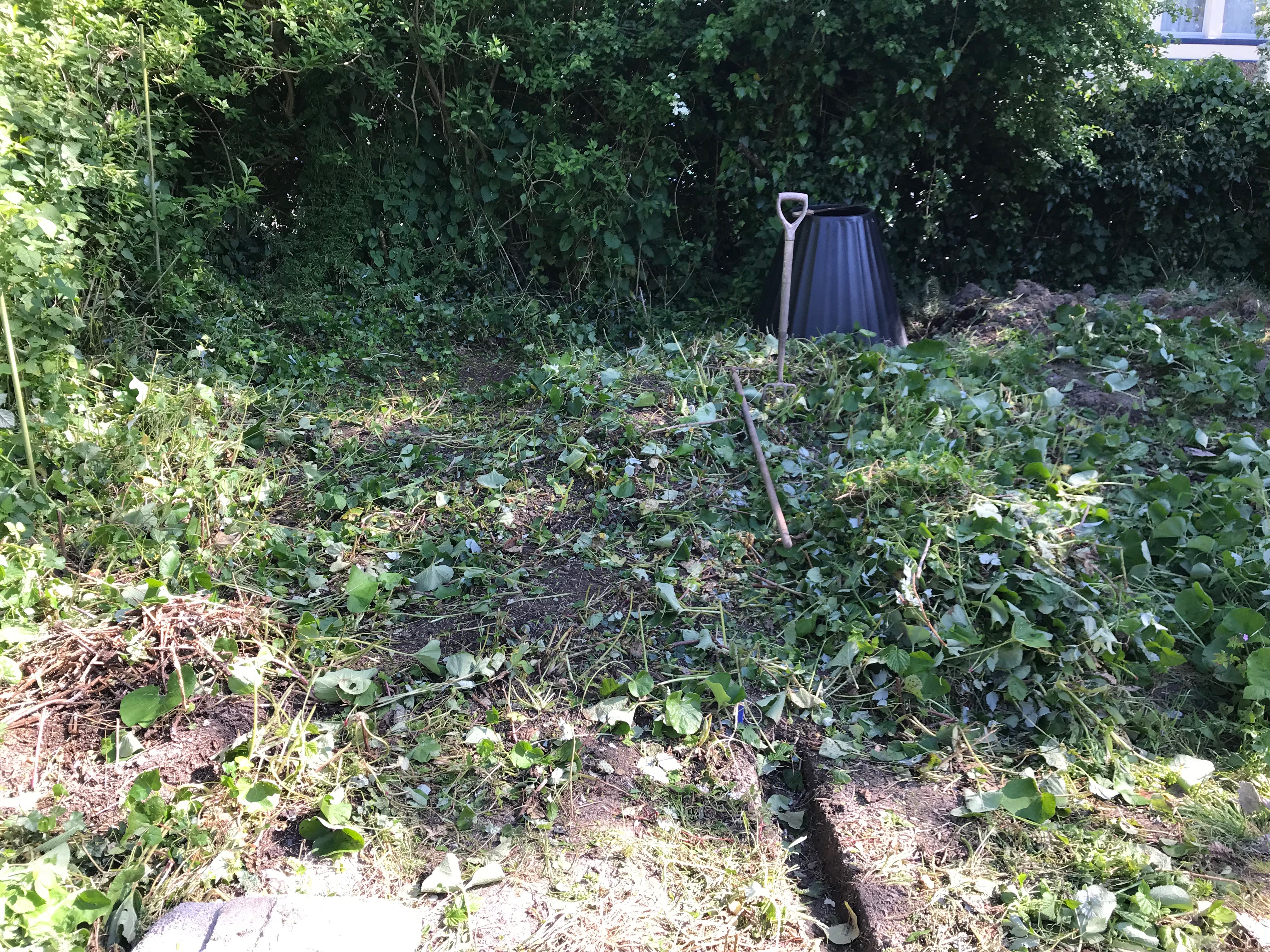 I then cover the ground with cardboard and semi-permeable membrane to stop the butterbur from growing.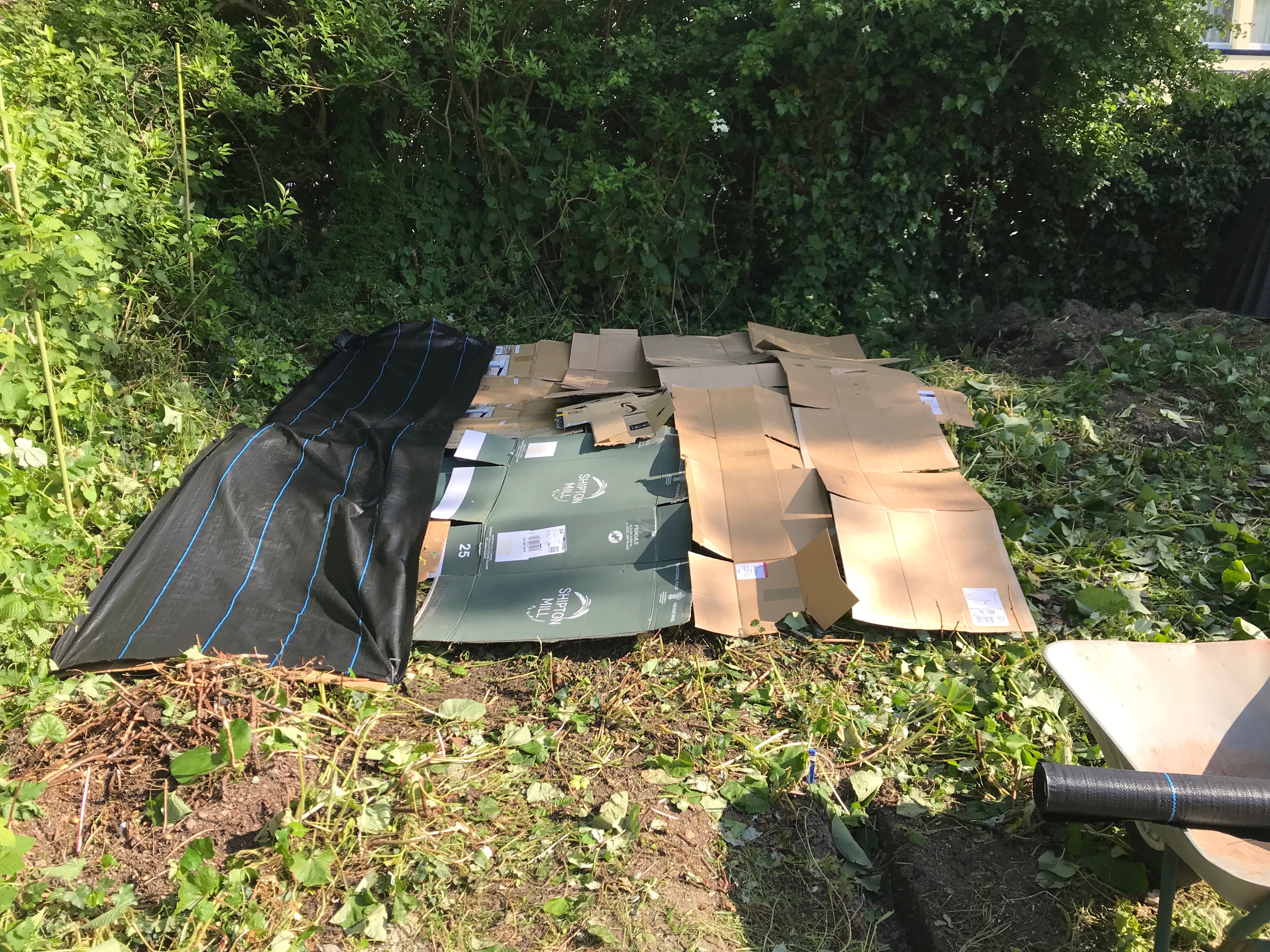 Later in the year, we will level this raised bit of ground, to make room for a small shed and some fruit trees.


---
090520

Plymouth, Devon //
Coronavirus disease (COVID-19) Pandemic: Day 59 // UK Lockdown: Day 47


We met the cat's owners and they told us his name is Simba. He has been visiting the allotment since he was a kitten.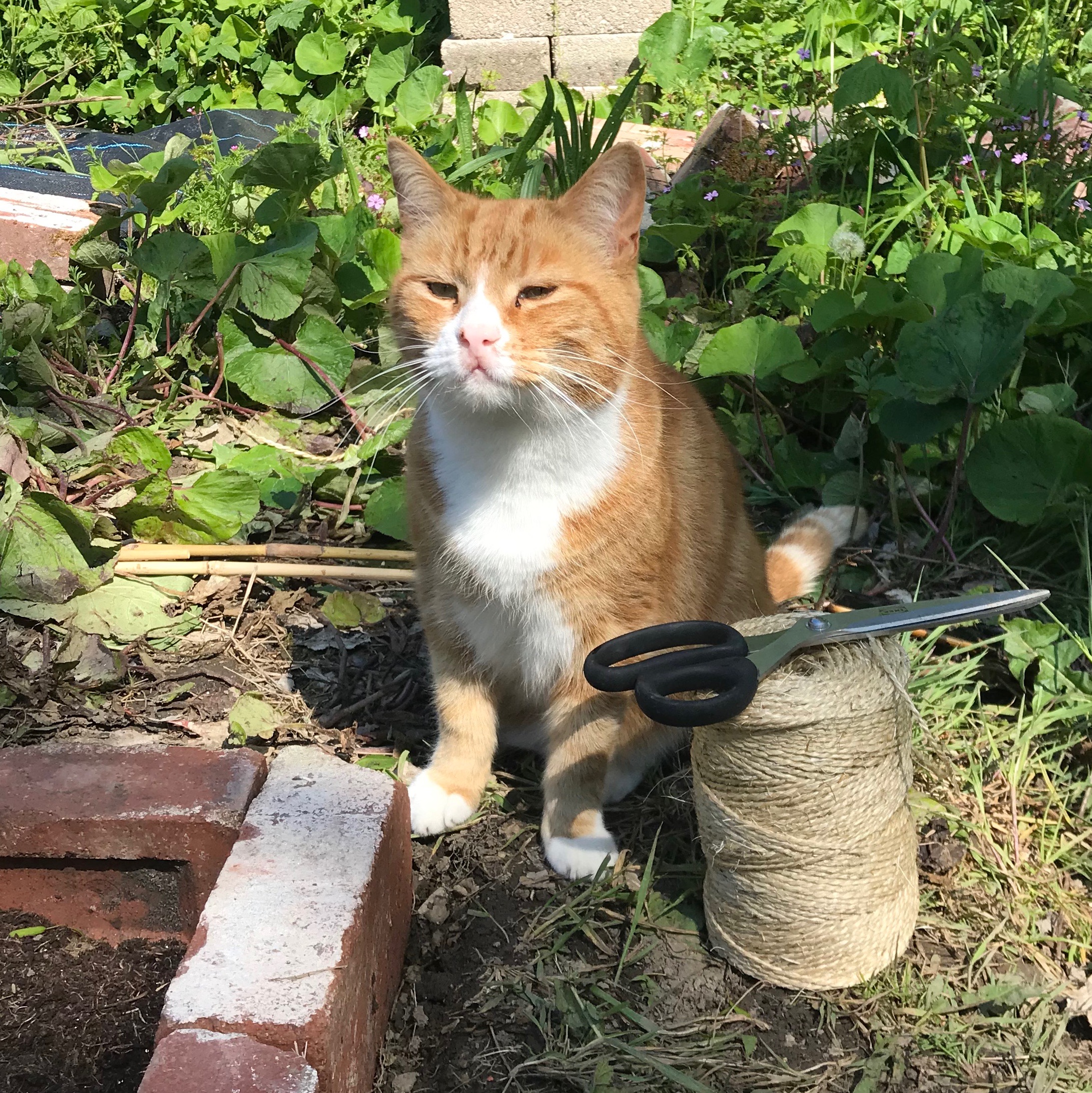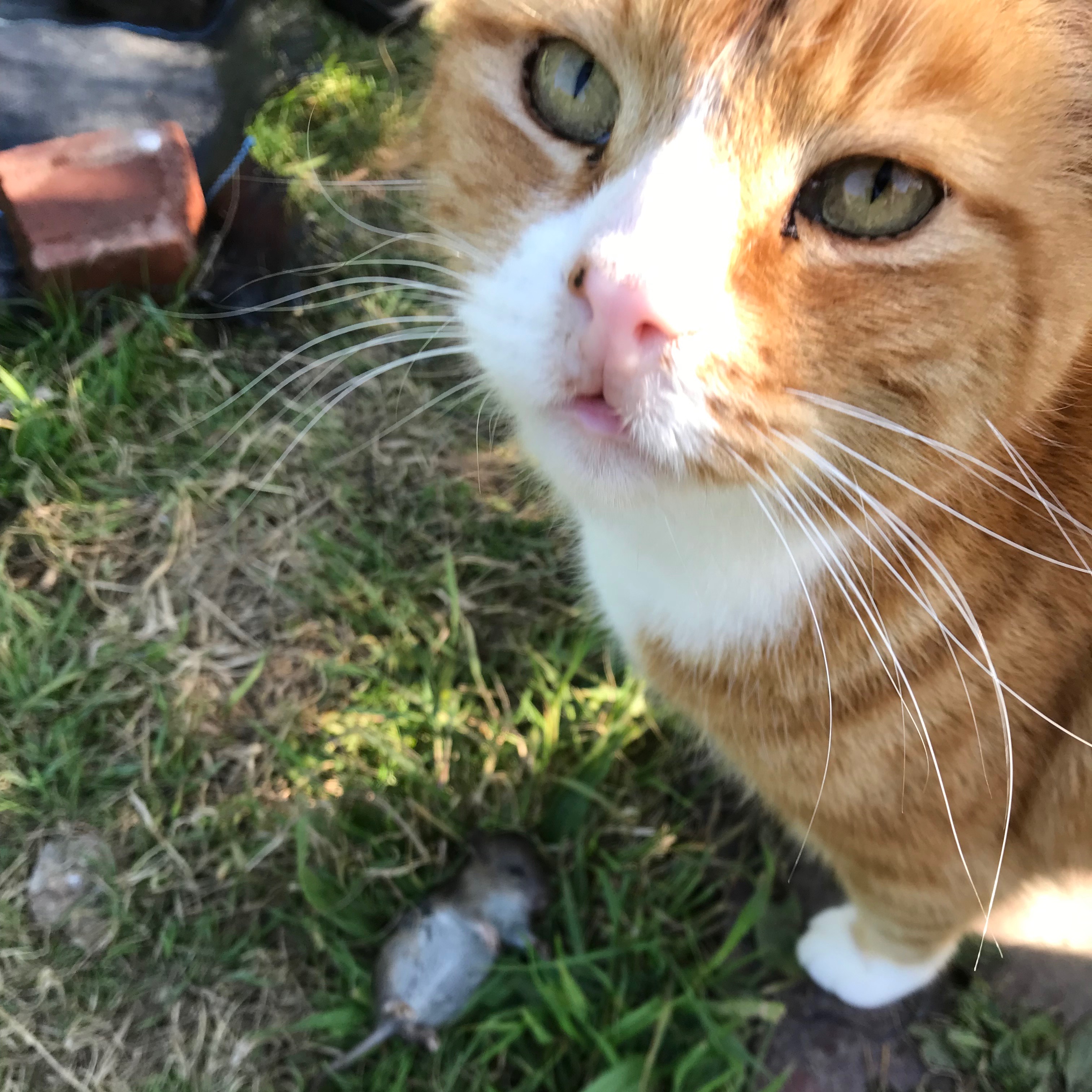 Simba officially adopts us this week as his allotment humans with the gift of a rat, shortly before declaring our pond well and truly open.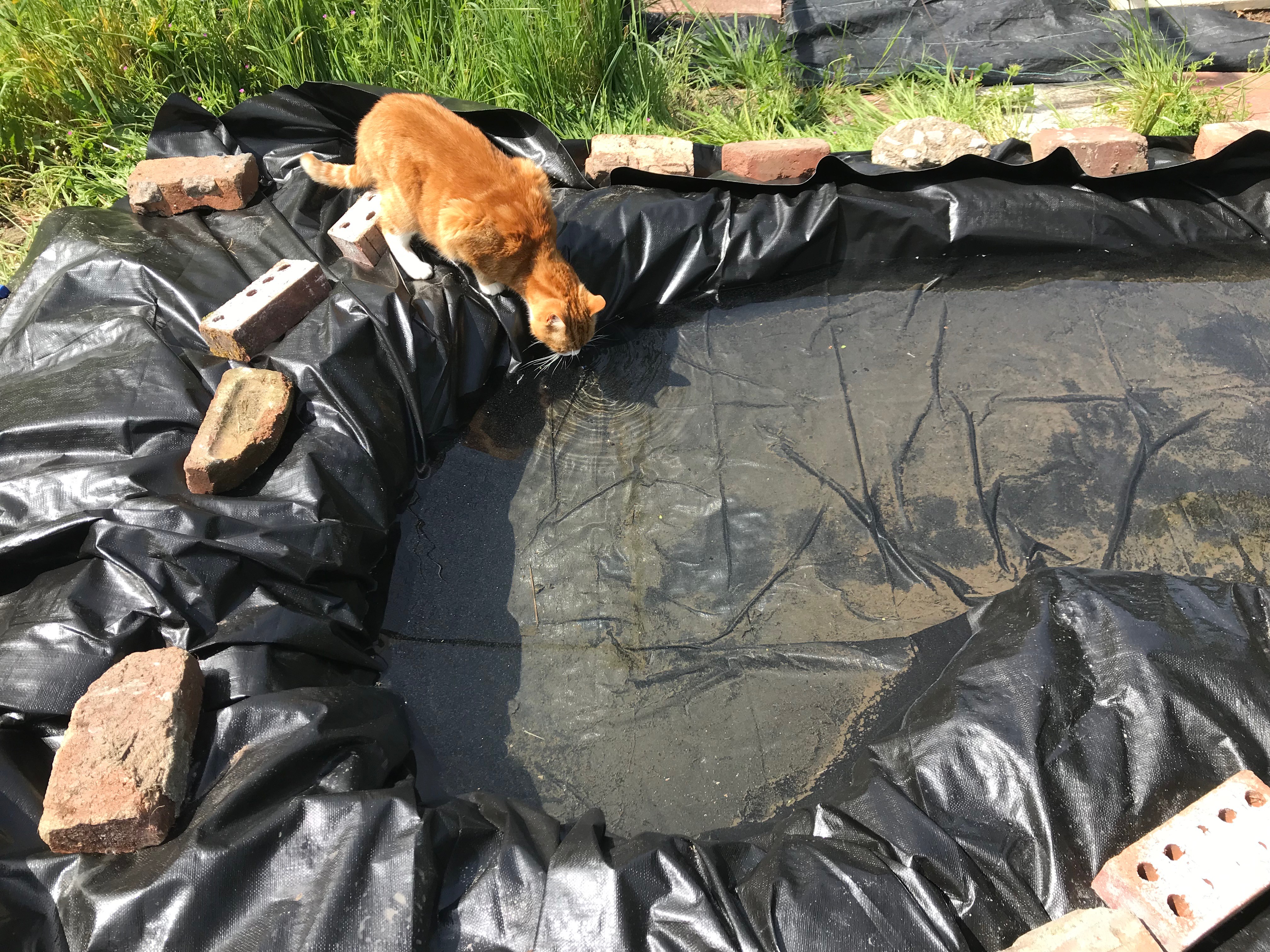 Beetroot is in. Beans are in and the poles are up, as are the peas and the pea sticks.


We see a Jay in the allotment today, a beautiful looking bird.


---
040520

Plymouth, Devon //
Coronavirus disease (COVID-19) Pandemic: Day 54 // UK Lockdown: Day 42


I complete bed number 8 today. Edged with bricks as I have exhausted all the free wood.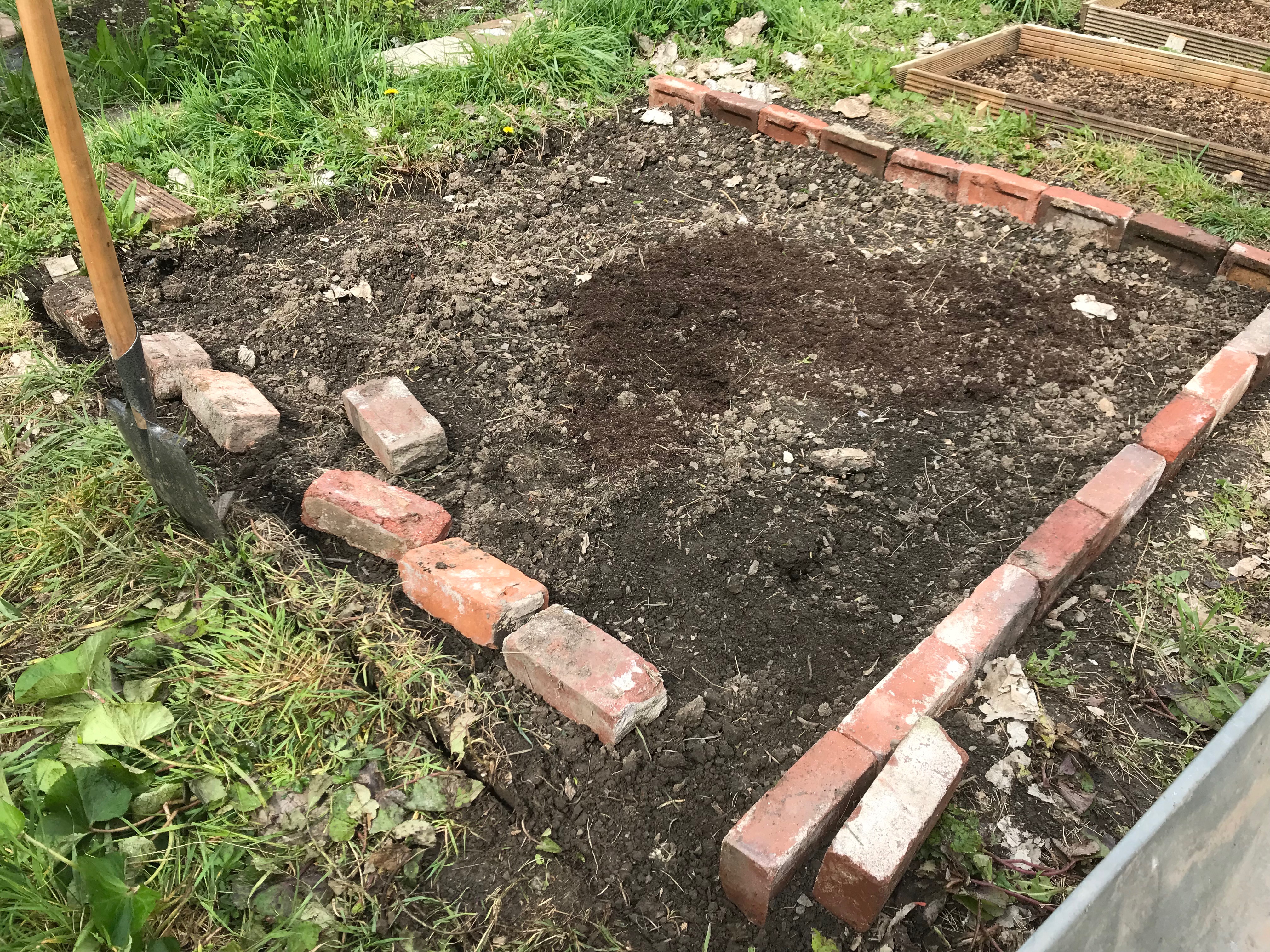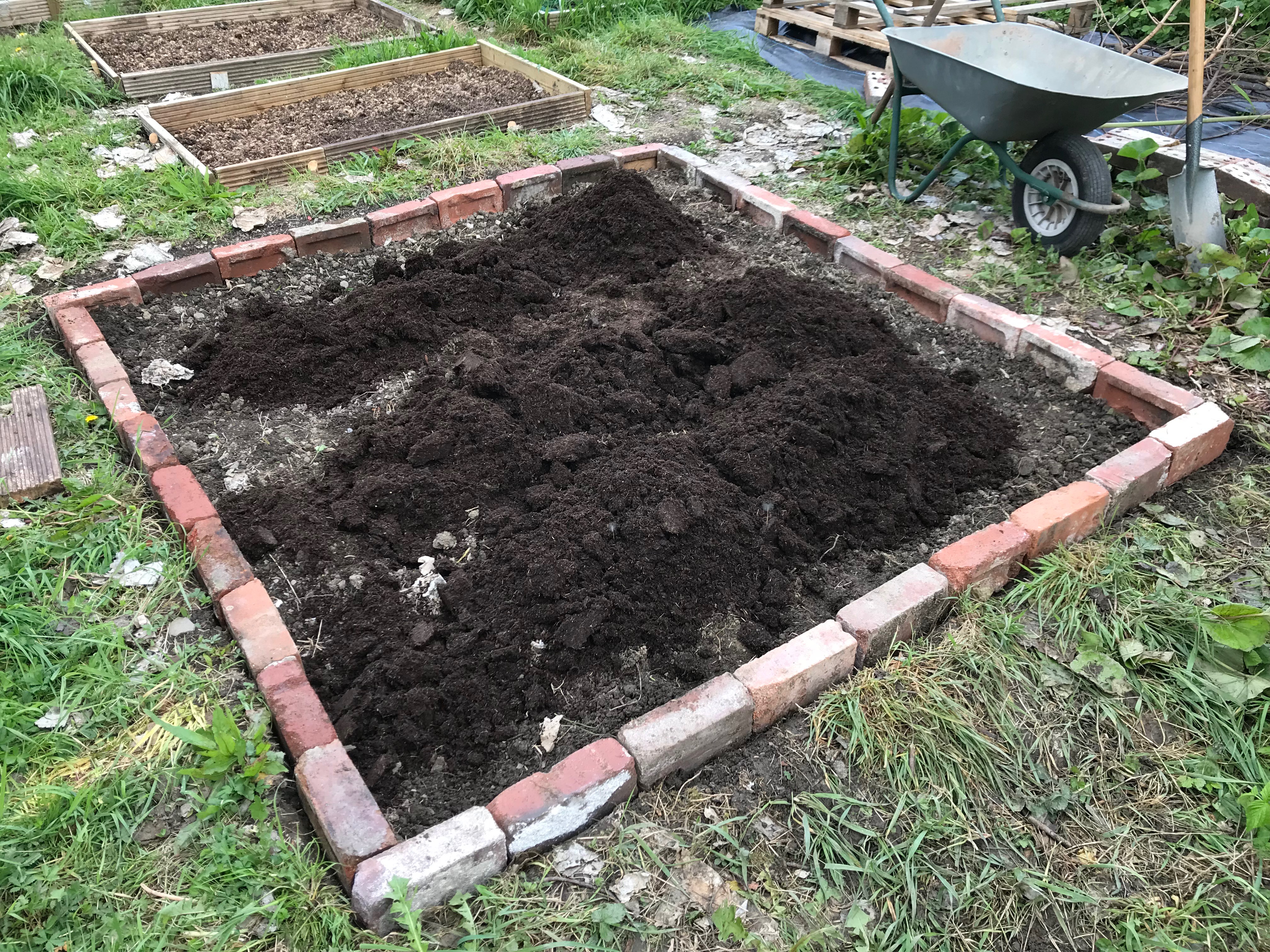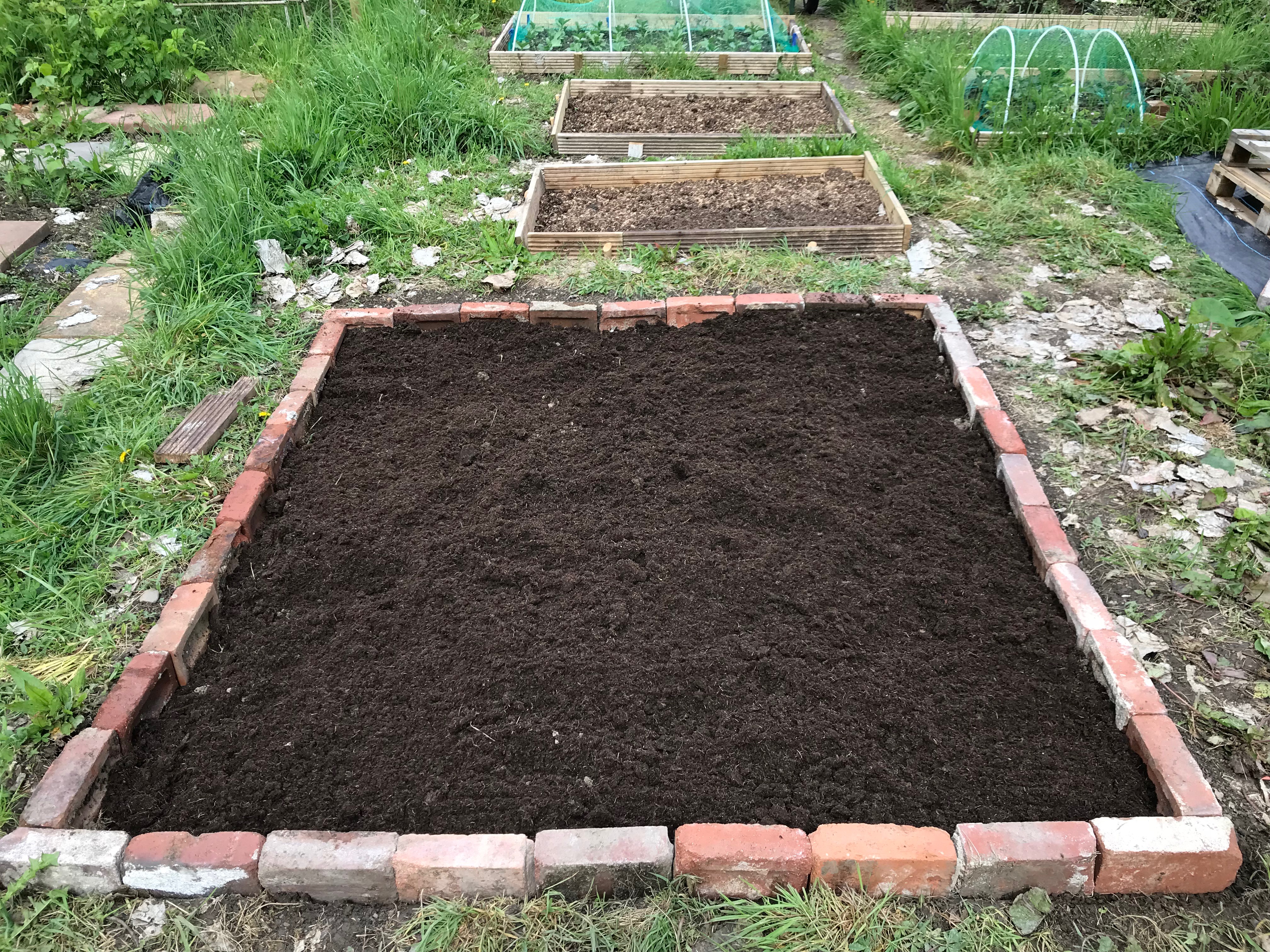 ---
260420

Plymouth, Devon //
Coronavirus disease (COVID-19) Pandemic: Day 46 // UK Lockdown: Day 34


I've almost completed bed number 8, which is a much bigger square-shaped bed. I have run out of free wood, so I'm edging this bed with bricks.

I swear the birds are getting louder! Tonight we enjoyed the eclectic song of a song thrush.


---
240420

Plymouth, Devon //
Coronavirus disease (COVID-19) Pandemic: Day 44 // UK Lockdown: Day 32


I am pleased to discover another pile of approx 30 bricks in the back lane. It takes 3 wheelbarrow loads to move them to the plot, mostly as the tyre on my wheelbarrow has a puncture. I add them to my growing pile of ready to use bricks.



Sarah is suffering from a headache today. I encourage her to join me at the plot to sit and enjoy the green space. She finds it therapeutic to watch me dig another bed. Number 8 is almost complete.


---
220420

Plymouth, Devon //
Coronavirus disease (COVID-19) Pandemic: Day 42 // UK Lockdown: Day 30


Sarah prepares the flower beds ready to plant sweet peas. She utilises some old branches that I pruned from the pine tree a few weeks ago.

Ginger (as he is now known) supervises.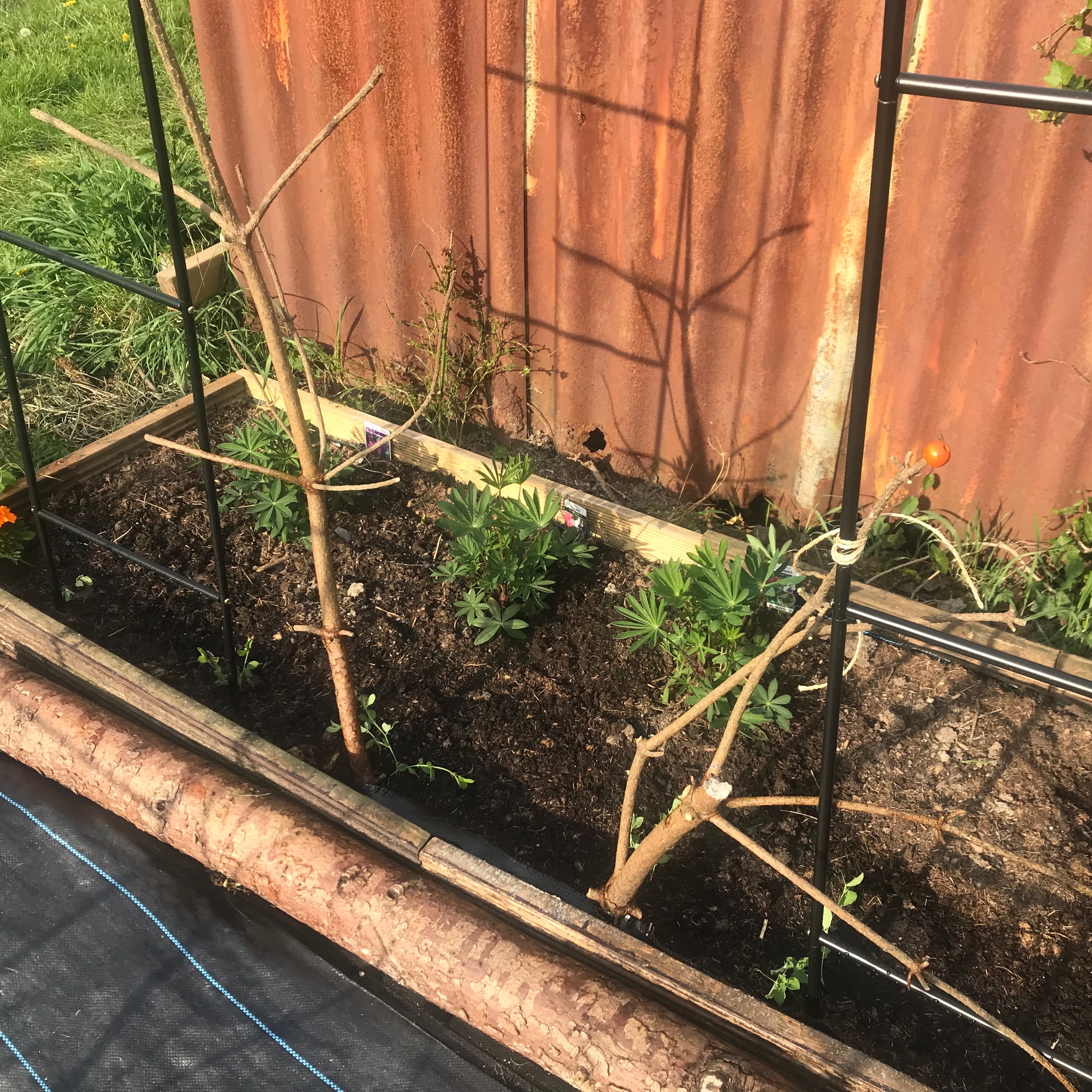 I have a quick tidy of the Nissen hut, so I can install some shelves. Another back lane find!



I complete bed number 7. Bed 6 and 7 are shorter than the others as I'm leaving room for fruit bushes.

I water the beds then relax in the shade of the pine. It's 5pm, there are no traffic noises. All is still and I enjoy listening to the wood pigeons.

Happy Earth Day!


---
180420

Plymouth, Devon //
Coronavirus disease (COVID-19) Pandemic: Day 38 // UK Lockdown: Day 26


Living in a Victorian townhouse, with cobbled back lanes, we are always finding treasures dumped ready for the bin men, or anyone else who gets there first. In this instance a pile of old bricks from an old garden wall that had been knocked down to make way for an extension.



I plan to use the bricks to edge a new bed - not yet dug, so I transported them to the plot in 4 barrow loads and set to chipping off the excess cement. I'm not designed for manual labour and soon had blisters from wielding a lump hammer. Satisfying work all the same.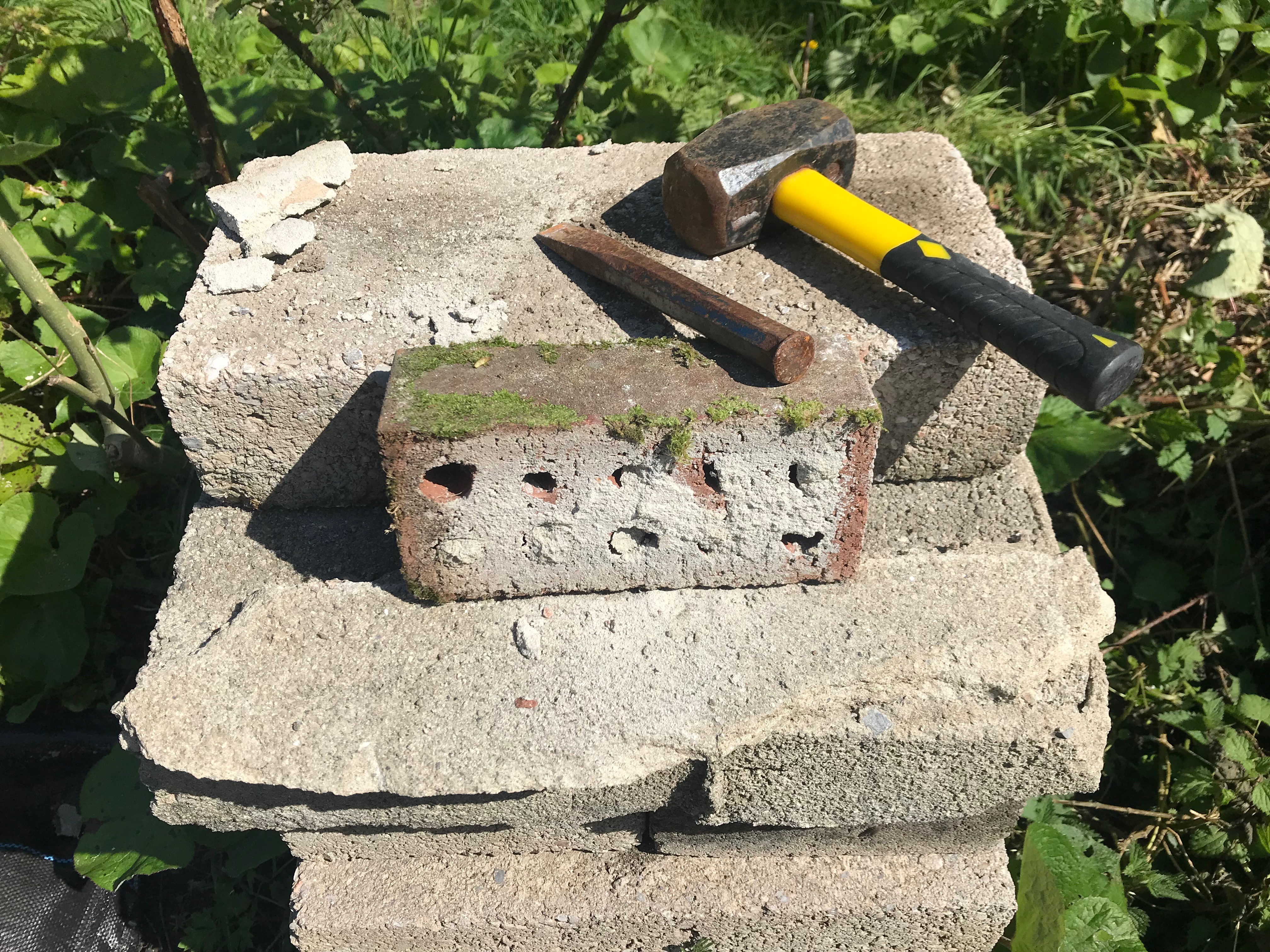 ---
160420

Plymouth, Devon //
Coronavirus disease (COVID-19) Pandemic: Day 36 // UK Lockdown: Day 24


Sarah works on the flower beds, cutting back the membrane and filling with fresh compost. She plants Cosmos, Lupins, Snapdragons, Alyssum and Marigolds, leaving room for the sweet peas that we are growing from seed at home.



Once bedded in, Sarah relaxes and supervises me watering them in.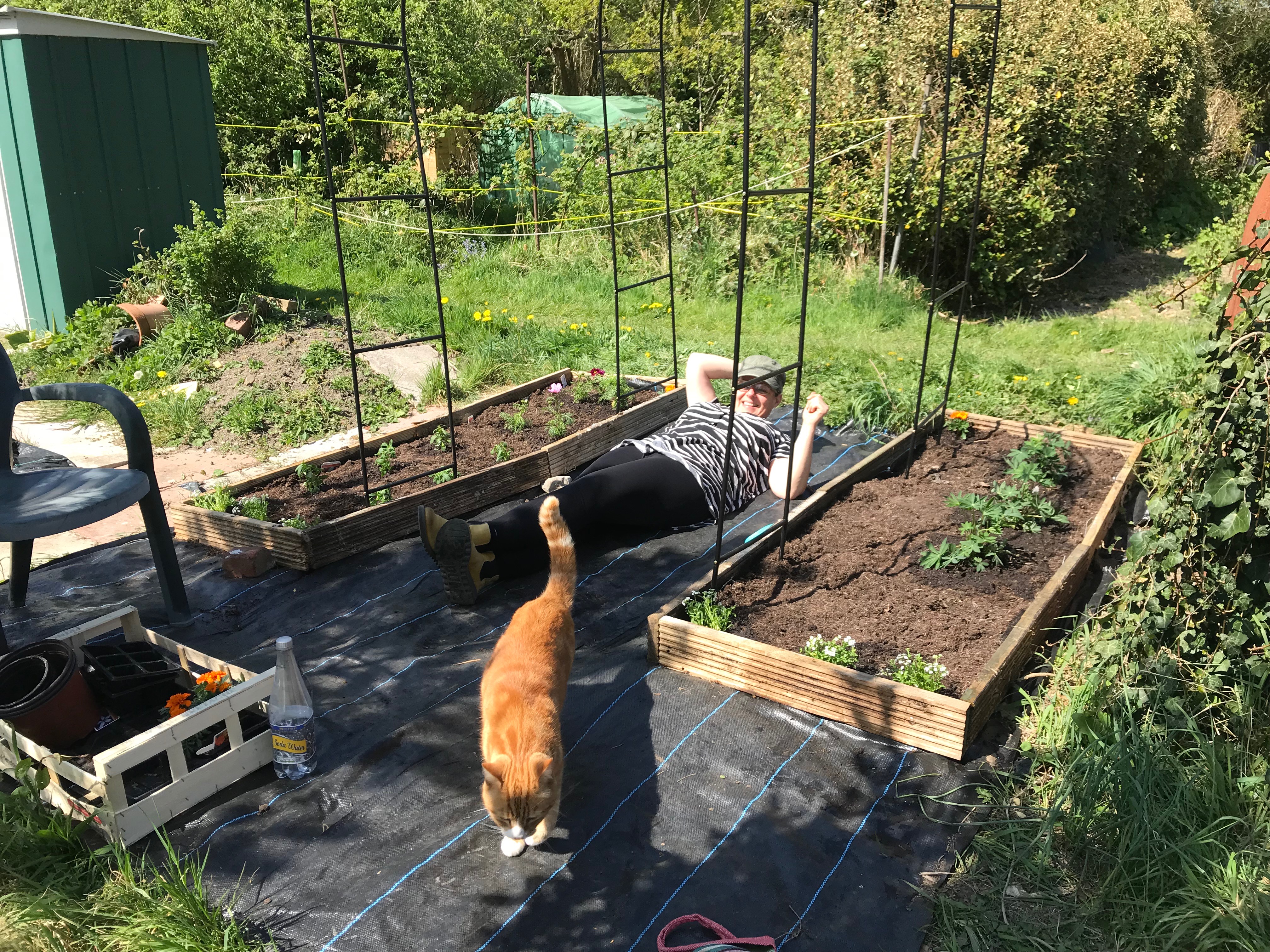 I create bed number 6, ready for courgettes to be added which are currently growing rapidly at home!

I leave space at the end of the bed for a fruit bush - variety as yet undecided.



Robin, the Robin, as we've imaginatively called him always lifts our mood though. He regularly stays near me when I'm digging, waiting patiently for me to step aside and allow him to eat the newly uncovered worms.


---
140420

Plymouth, Devon //
Coronavirus disease (COVID-19) Pandemic: Day 34 // UK Lockdown: Day 22


I complete the construction of the flower beds.

Sarah cuts the membrane and adds compost ready for planting.


---
120420

Plymouth, Devon //
Coronavirus disease (COVID-19) Pandemic: Day 32 // UK Lockdown: Day 20


We strolled to the plot after lunch and I set to building the raised beds for the cut flower garden, which will surround Sarah's arches.

I find concentrating on jobs at the plot takes my mind off the pandemic. It's also a welcome break from social media. I'm trying to limit my use, but it's so hard when there are such great journalists on Twitter like Carole Cadwalladr doing her best to hold the government accountable. There's some great humour on Twitter too, but ultimately, being at the plot is mindfulness in its purest form. It is a tonic in these very strange times.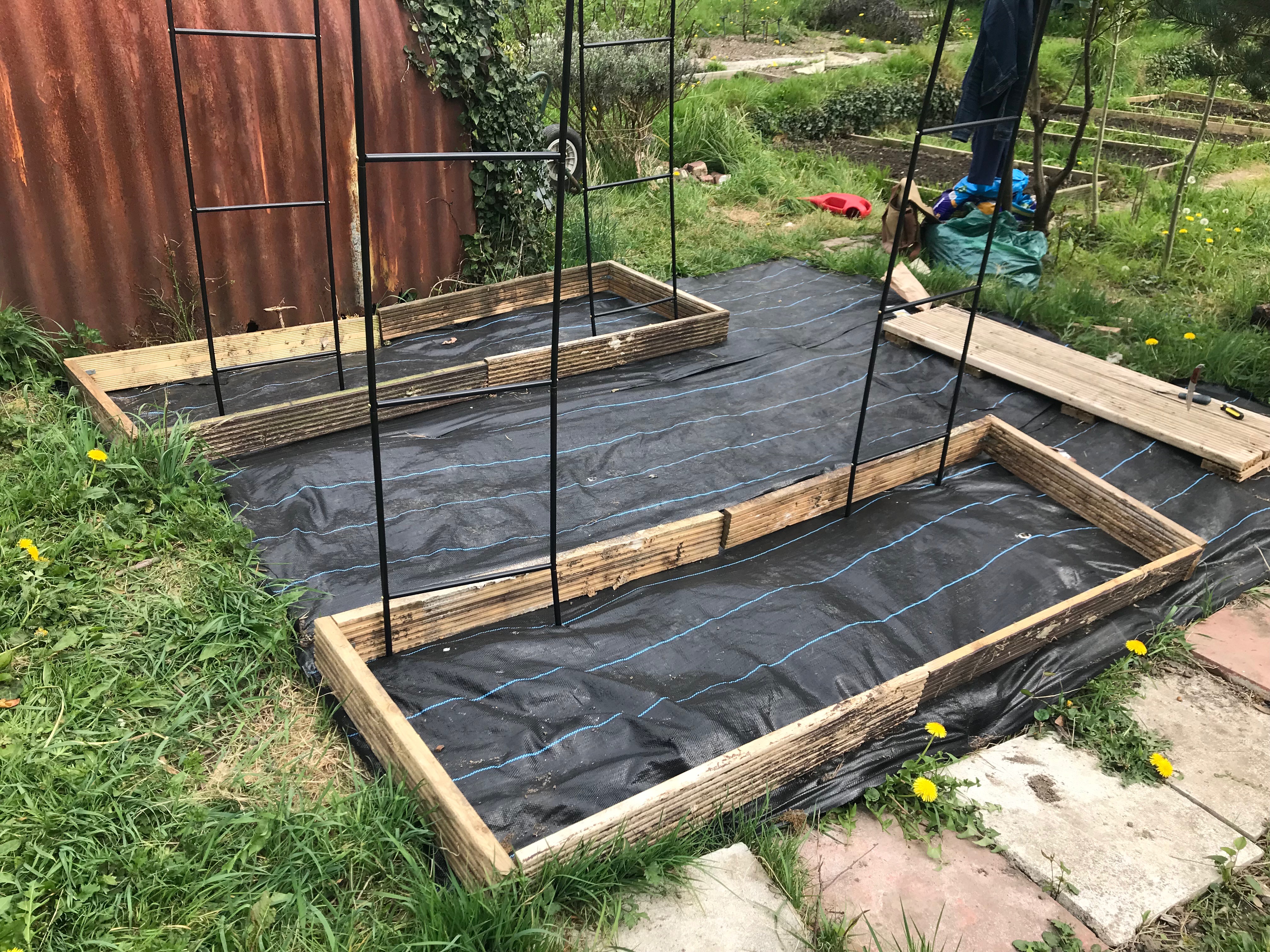 Sarah watered the 5 beds with a watering can. 20 trips in total. She decides it's time to order a hosepipe and measures the distance from the tap to the middle of our plot. 150ft.

We create a cordon for the brambles, so we can tame a little bit of wilderness and enjoy some juicy blackberries.



We are overjoyed to notice an onion poking through the soil!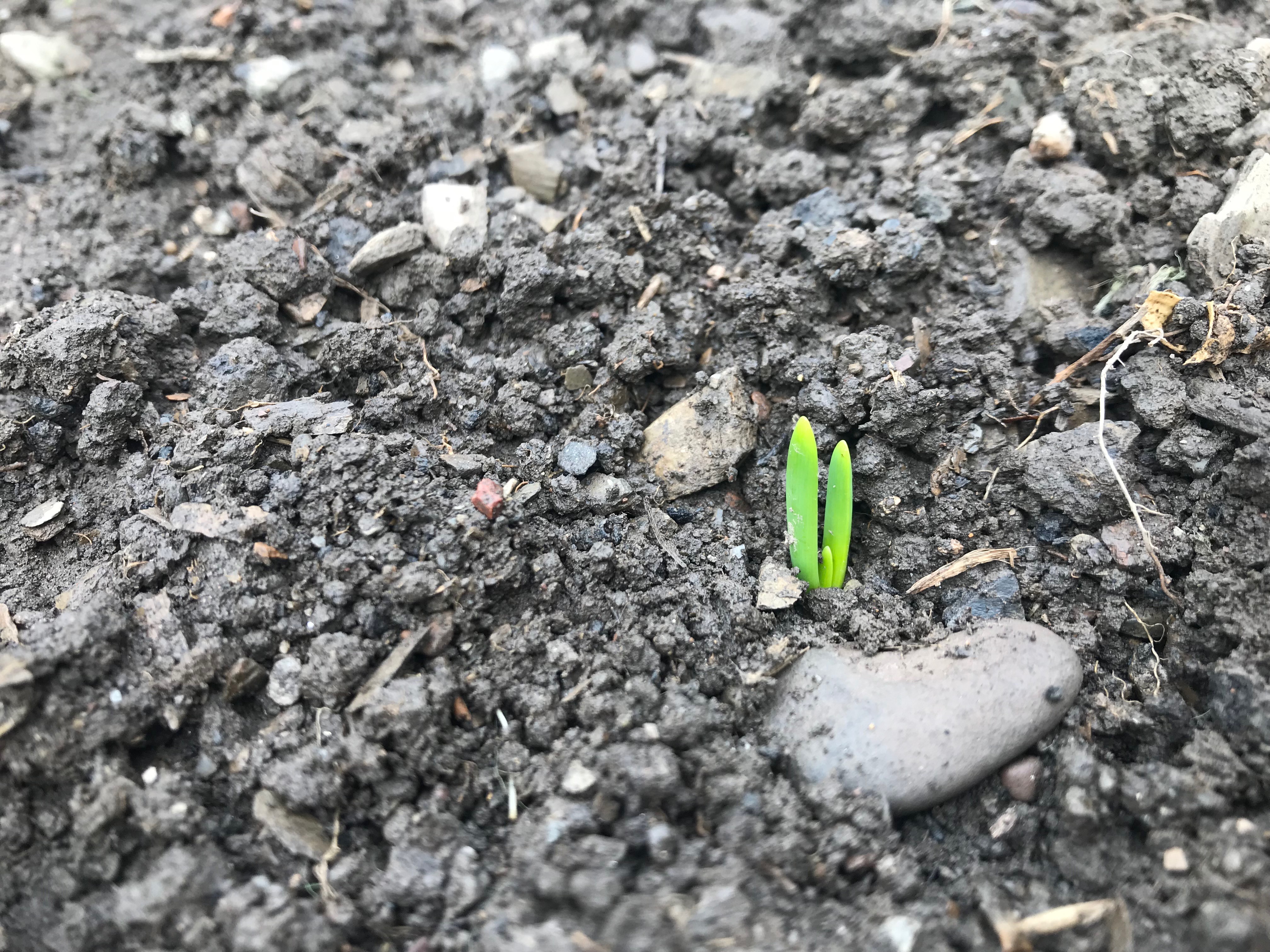 And we see fruit on the strawberry plants that were gifted to us by an allotment neighbour last summer, when we moved onto the plot.

I will need to net them soon.



I also mark out an area for our greenhouse, which is on the wish list.



Ginger pays us a visit. He's very happy to discover I have Dreamies in my bag today.

I enjoy his visits. The Dreamies are a good distraction from the birds, which he is most intent on catching.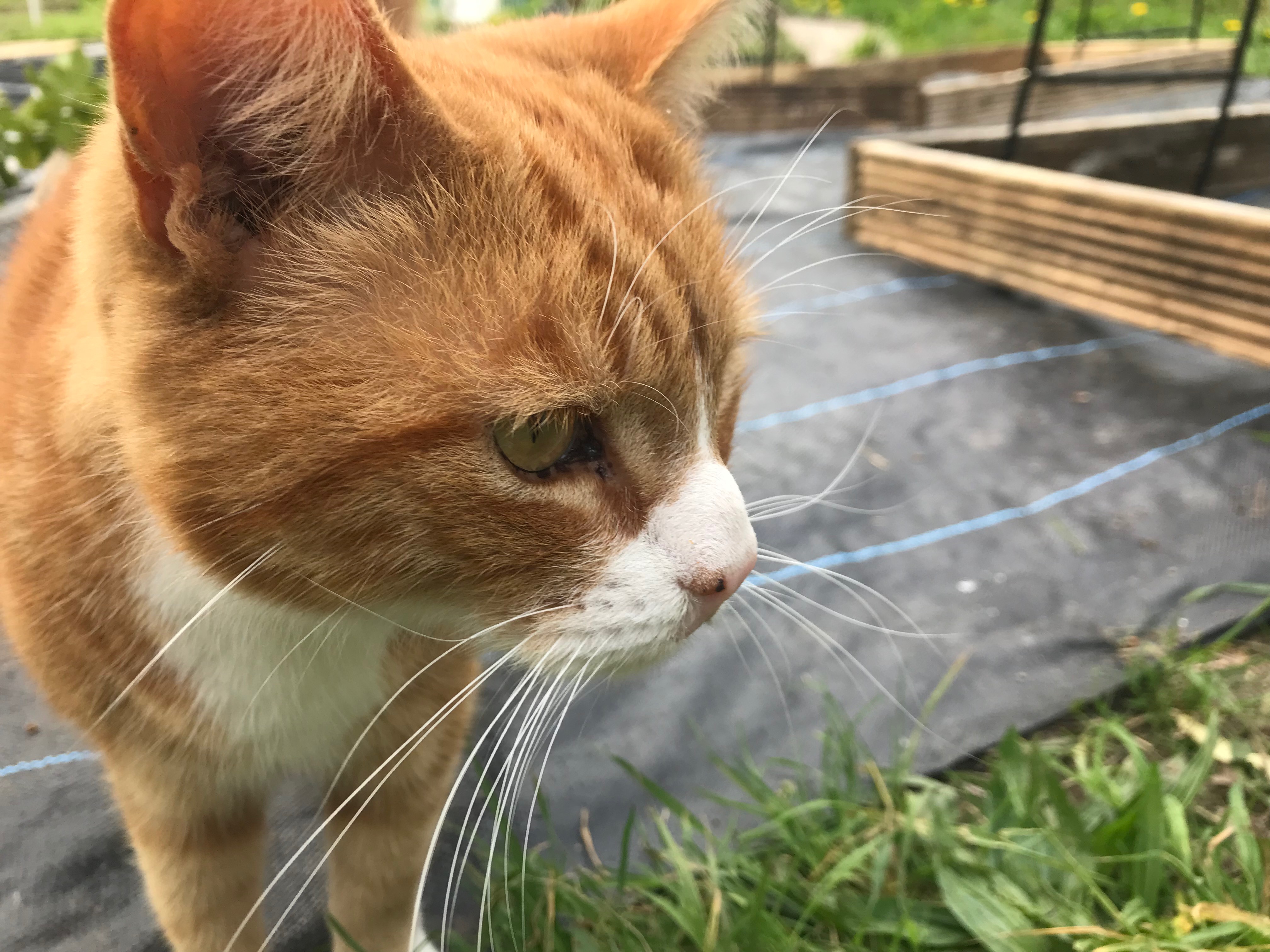 As we leave I prune a wayward branch from the bay tree. We will dry the leaves for cooking.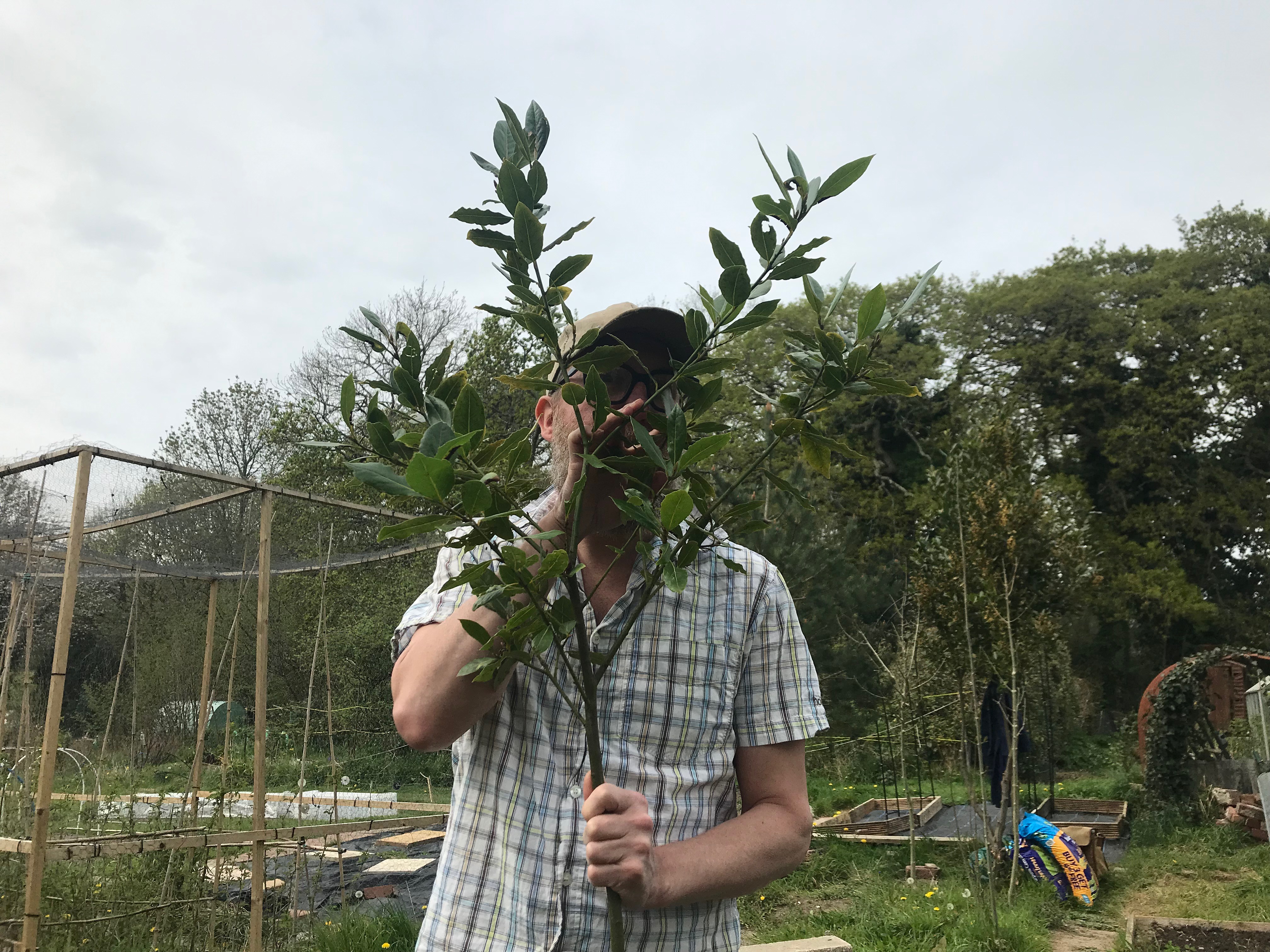 ---

Switching from black and white photographs to colour, as there's enough darkness in the world already.


---
090420

Plymouth, Devon //
Coronavirus disease (COVID-19) Pandemic: Day 29 // UK Lockdown: Day 17


It's the hottest day of the year so far. 21 degrees.

We wait until the evening to visit the plot.

Sarah and I share the watering of the beds.

We sit for awhile. It's nice to feel the heat of the (less intense) evening sun on my face.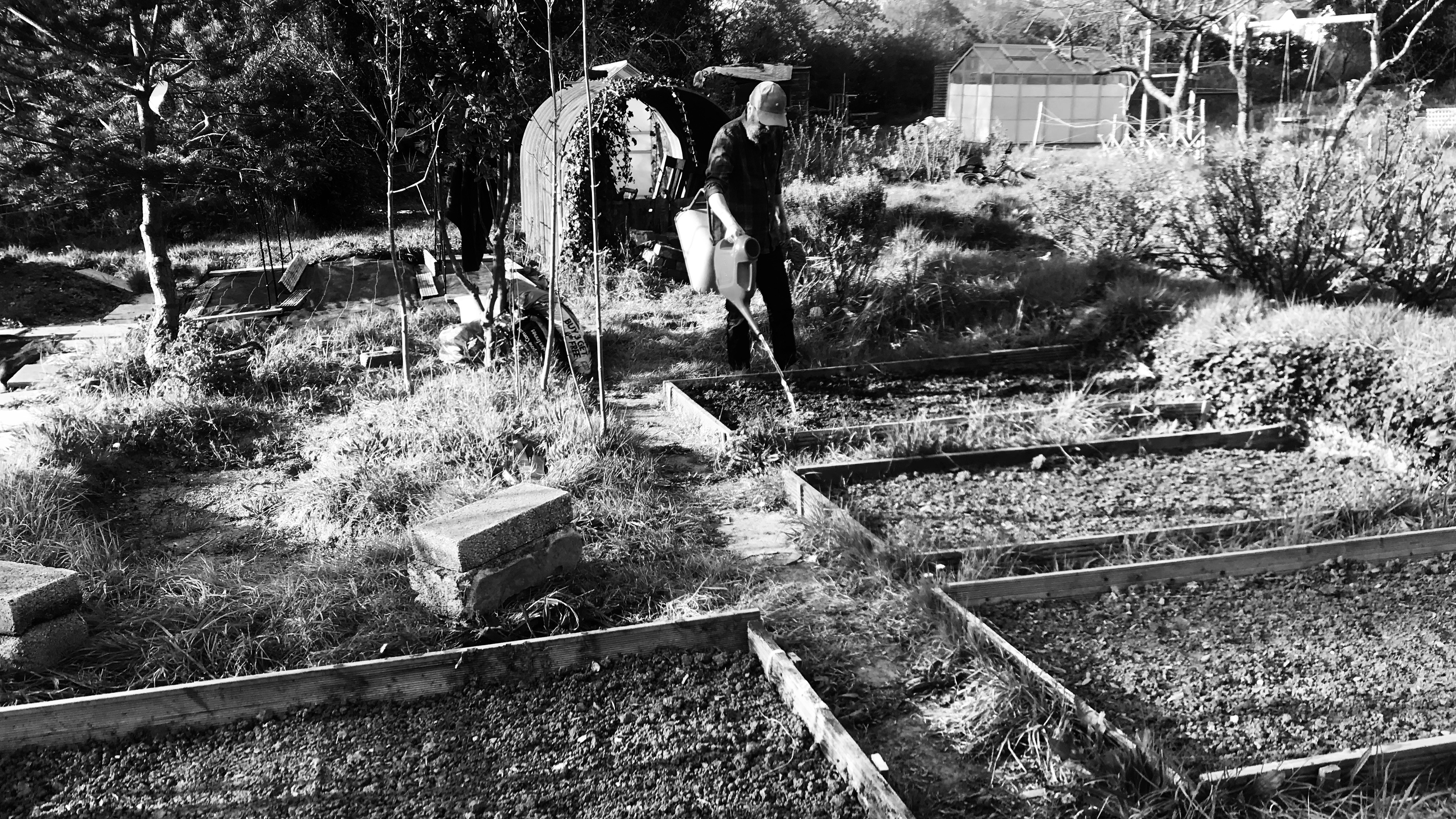 ---
060420

Plymouth, Devon //
Coronavirus disease (COVID-19) Pandemic: Day 26 // UK Lockdown: Day 14


I make a quick trip to the plot, hang the bug hotel we were gifted at Christmas in the pine tree.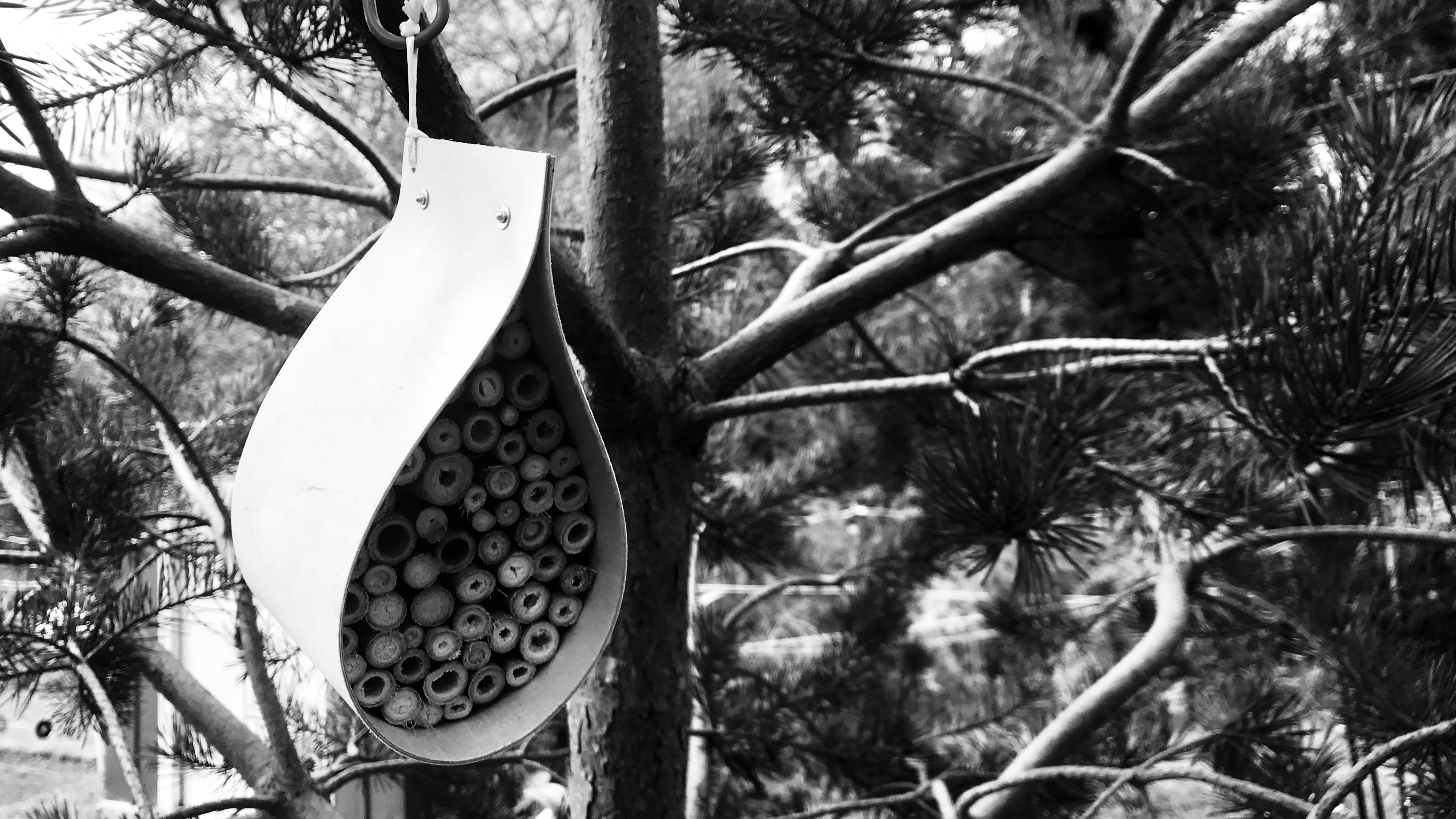 Then I take some cuttings of the Forsythia before joinig Sarah and heading to her parents with a care package of essential items.

We keep a socially respectful distance.


---
040420

Plymouth, Devon //
Coronavirus disease (COVID-19) Pandemic: Day 24 // UK Lockdown: Day 12


Sarah likes to make an entrance...



Sarah constructs the second arch for climbing roses and sweet peas etc.

I dig over the new bed (no.5) and plant broad beans (Masterpiece Green Longpod).

We sit in the sunshine awhile. It's 15 degrees and not a cloud in the sky. To be this happy outside in the sunshine is incongruous to the current worldwide pandemic.

When we get home I sign up to a comedy live stream via crowdfunder. Like working at the allotment, laughter is a great stress reliever.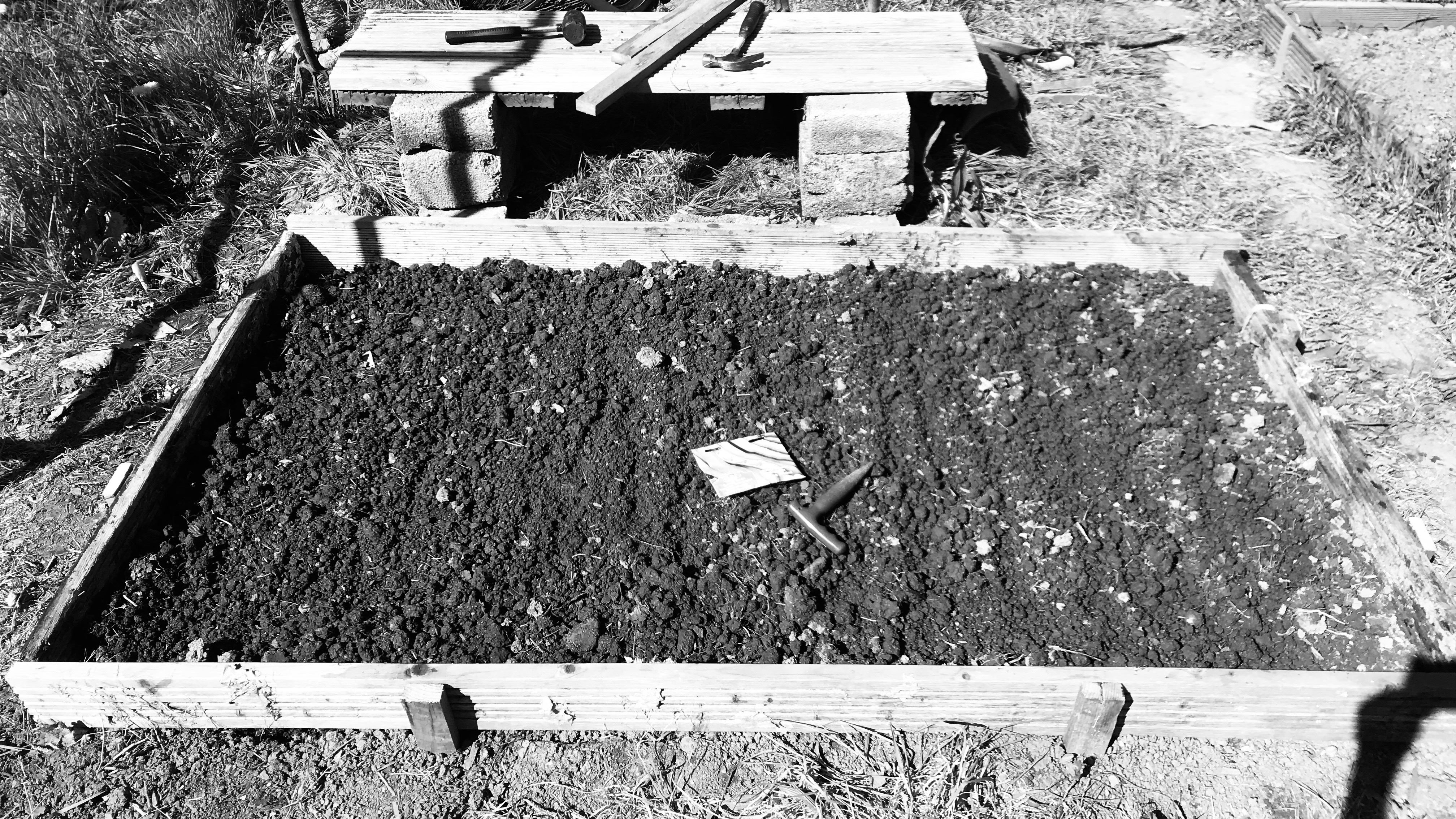 ---
020420

Plymouth, Devon //
Coronavirus disease (COVID-19) Pandemic: Day 22 // UK Lockdown: Day 10


I wake at 6:30 regular as clockwork. I fall back to sleep and wake again at 9:45.

Sarah and I drink coffee together in the kitchen.

Lucia has shared a google drive of photos of Hudson, my new grandson that I've yet to meet in person due to the lockdown. We coo at the baby photos.

I shower and get ready to take my self-portrait for the day - my daily project. I take it and sit down at my Mac to edit the image and check my emails.

I visit the plot, using surgical gloves to enter (and exit) the padlocked gate.

I plant red (Red Baron) and yellow onions (Stuttgarter Riesen) in bed 3 and water them in. I make countless trips to the water butts to fill the watering can. We don't yet have a hose at the allotment and current rules forbid the sharing of tools. I enjoy the exercise though, and I get to admire my neighbours' growing efforts in the process.

There is so little traffic noise, the birdsong is amplified. It lightens my mood.

The allotment ginger tom joins me. We sit awhile and he allows me to stroke him. He reminds me of my first cat - Carrots - from when I was a child.



I set to creating a new bed, bed number 5. It takes about an hour to prepare, and though it's not 100% complete I am happy with the progress, but mostly I am hungry.

I return home to a delivery of a huge veg box and a tray of eggs. Sarah is making us an omelette, with a side order of potatoes, sage and onions. I'm ravenous and it's delicious.


---
290320

Plymouth, Devon //
Coronavirus disease (COVID-19) Pandemic: Day 18 // UK Lockdown: Day 6


Allotment Journals

All 4 beds are now back in action, after digging and tilling.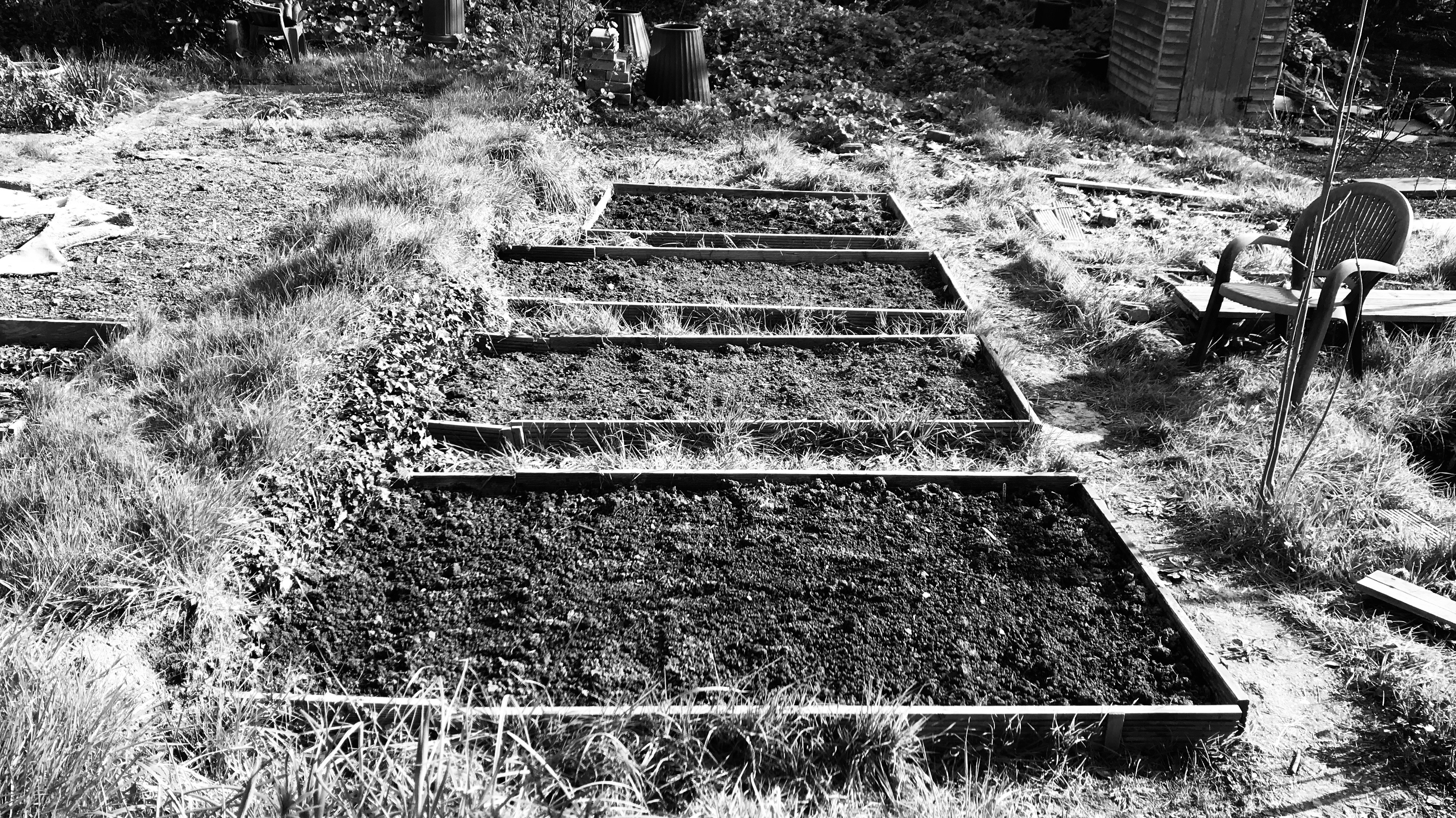 Sarah constructs an arch for sweet peas while I plant out the white (snowball) onion sets in bed 1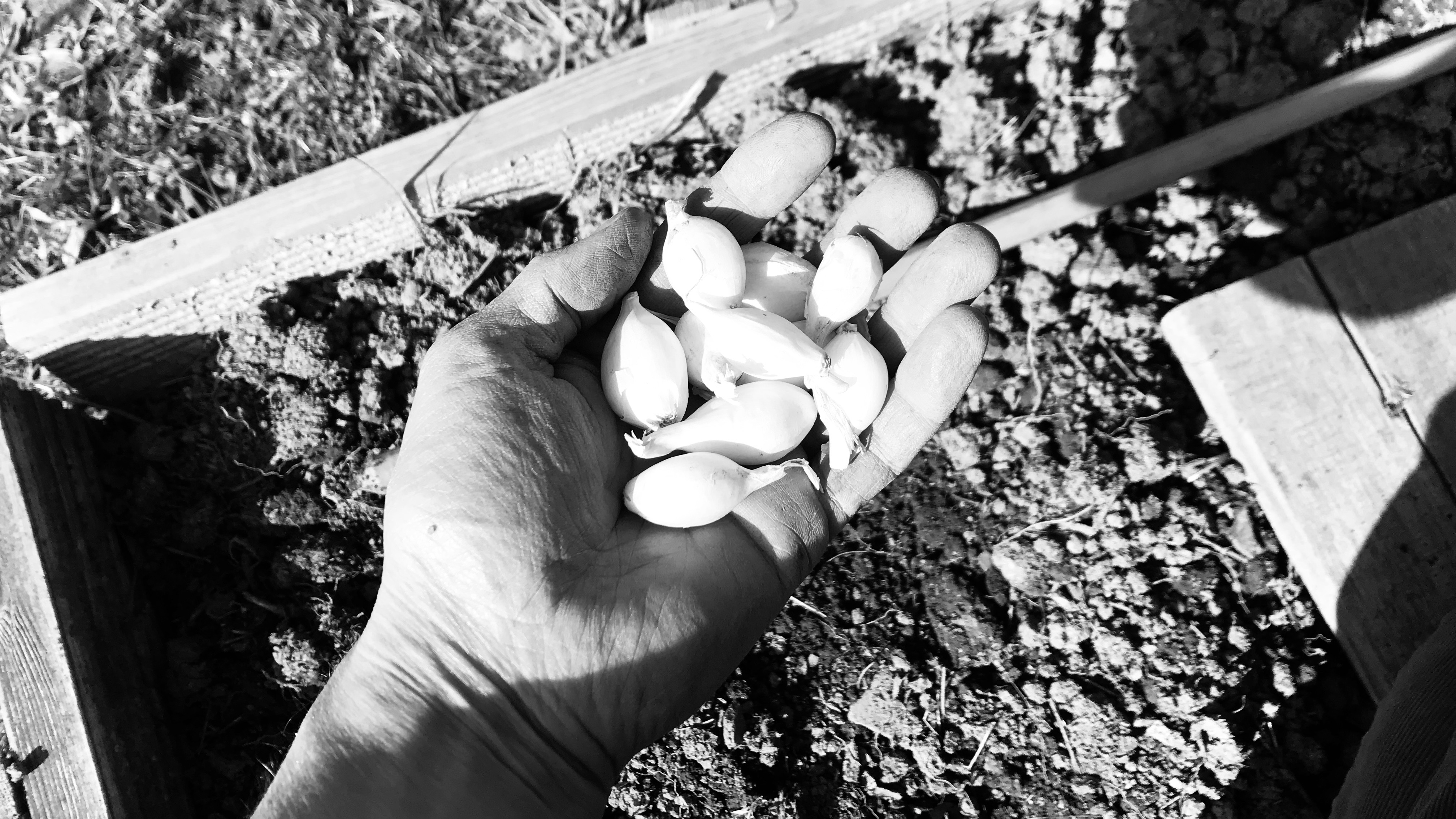 I plant early potatoes (red duke of york), that Sarah's mum has chitted at home for us into bed 2, with a few leftovers which I plant into bed 4 alongside the strawberry plants.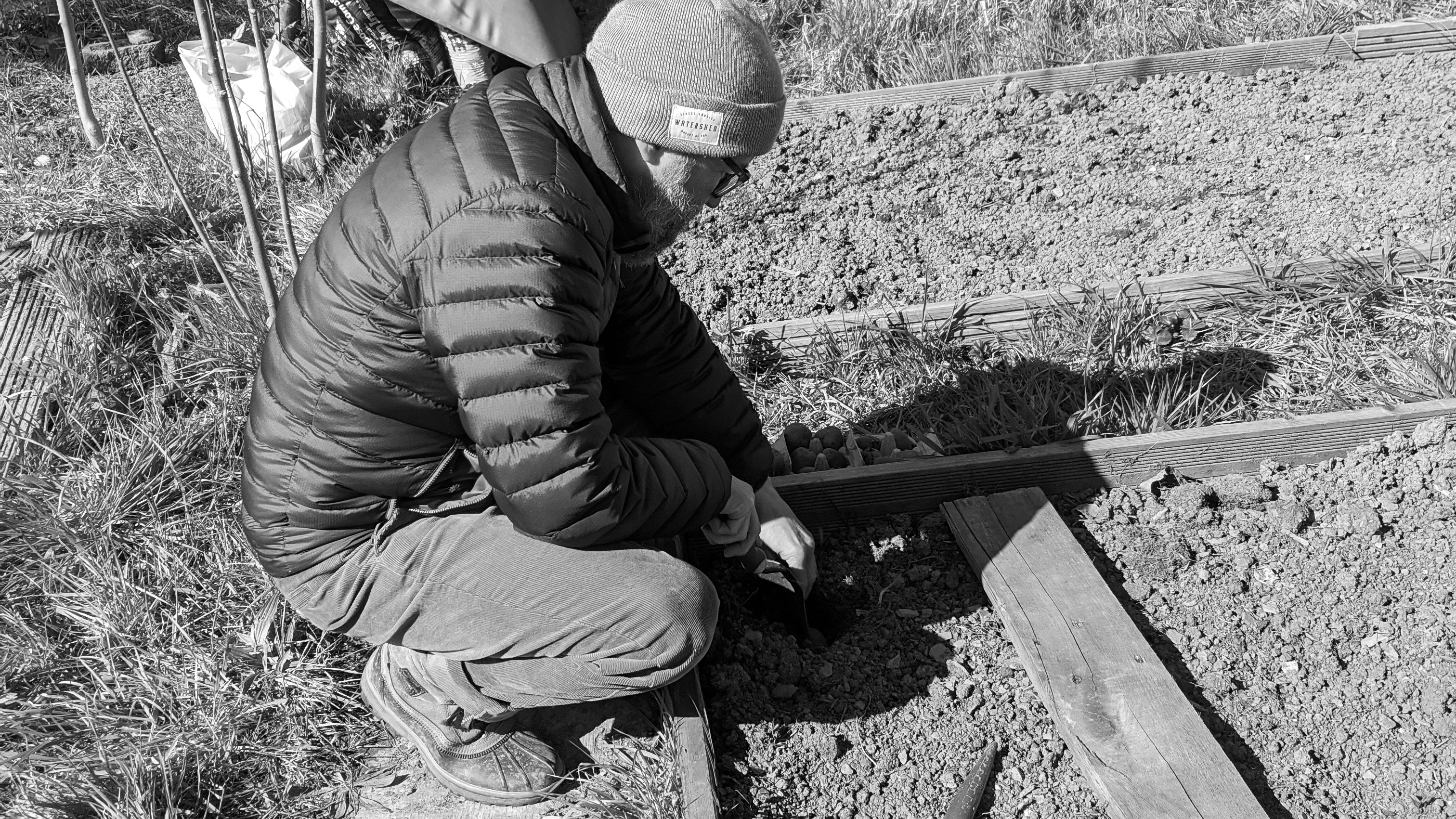 Bed 4 was the most overgrown of all 4 beds, probably as it's the most fertile. We grew peas there last year, and an allotment neighbour gifted us some strawberry plants, which we planted next to the peas. When I dug up clumps of grass from bed 4, I only lost 2 strawberry plants in the process, so I guess I managed to preserve most of them... [tumbleweed].

A bitterly cold wind blows across the plot today. We don't stay long for fear of offending the gods with my dad jokes.


---
280320

Plymouth, Devon //
Coronavirus disease (COVID-19) Pandemic: Day 17 // UK Lockdown: Day 5


Allotment Journals

I lock the gate and take a few steps into the allotment, before I even reach our plot, a sense of peacefulness pervades. I am calm. I am calmed.

We returned to the allotment for the first time last week. We had neglected it this winter. A combination of work and family commitments meant that it wasn't our top priority.

We had always intended to return in the spring, to start where we had left off last autumn. Nature has its own way, and obviously when we returned, the beds we prepared last summer were now quite overgrown. Not as badly overgrown as when we took over the plot last summer, where an industrial strimmer was required to cull 5 ft high grass, but overgrown nonetheless.

Now we are in the coronavirus lockdown, the allotment has become more of a lifeline than ever, in more than one way; as a means to maintain our physical and mental health, and ultimately to provide us with food.

The plot isn't purely functional though, there is an aesthetic element too. We plan to grow sweet peas, sunflowers, peonies and other flowers that we can cut and bring home to decorate the house.

The clocks spring forward this weekend, which means lighter nights, so after a day's work I will be able to tend to the plot in the longer evenings.



I sit awhile in the shade and compose a text to Pete, my son-in-law. He is doing a sterling job of caring for my eldest daughter Lucia, and their newborn baby Hudson, and I want to thank him. This is really a time when we should all be pitching in and helping their new little family, but the coronavirus lockdown prevents us from visiting. It's hard not to be able to help, let alone being unable to hug your daughter or cuddle your new grandson.

As I dig over the first bed I stop for a moment to feel the warmth of the sun on my face. A robin flies down and lands a mere 2 feet from me. I remain quite still, as he plucks up a worm I had partially unearthed in my digging. He swallows it and flies away. A beautiful moment in nature.

Nature is humbling. I am grateful that the birds, bees, squirrels, insects and the ginger cat that pays us a visit, are so accommodating. I am happy they are sharing their space with us.

I am grateful for many things right now; my good health, the love of my family and friends, and in this difficult time I am grateful for this little plot of land.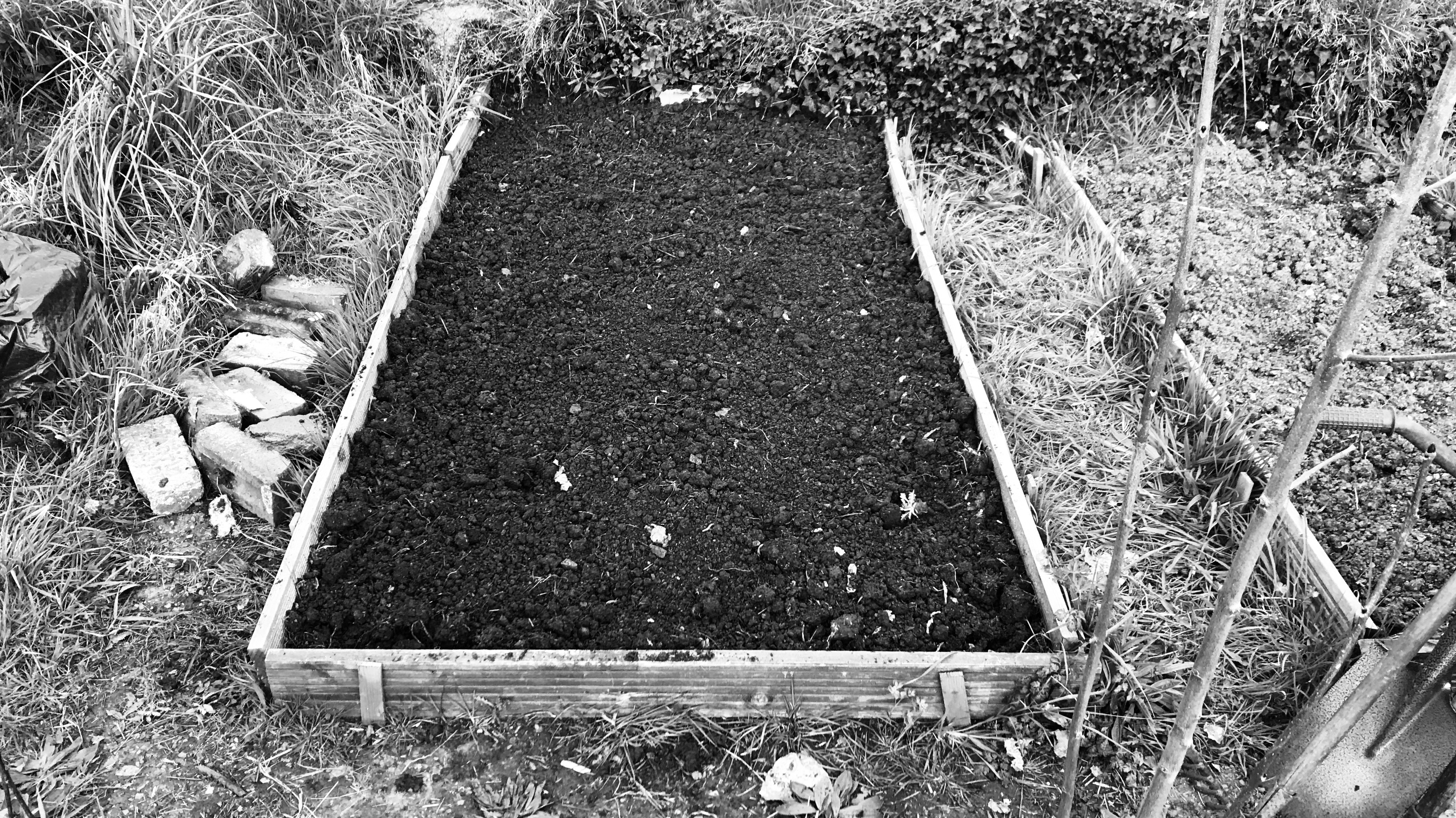 Later in the day I stumble upon a Morel growing in an unlikely place. I put some protection around it while I check with some forager friends online, to be certain it is a Morel. I am pleased to have it confirmed. It's my lucky day!


---
220320

Plymouth, Devon //
Coronavirus disease (COVID-19) Pandemic: Day 11


Back To The Land

I took a couple of pairs of disposable surgical gloves which I wear to unlock the allotment padlock, and use a fresh pair to lock the padlock on the way out, and dispose of the gloves in a bin.

We observed social distancing guidelines. We stick to our plot. See maybe 3 others, but just wave from a safe distance.

I live in hope that everyone respects the social distancing guidelines. The amount of people out and about in groups this weekend, in parks and at the beach, is utterly bonkers!

All I can think of right now is this quote: To Plant A Garden Is To Believe In Tomorrow ~ Audrey Hepburn.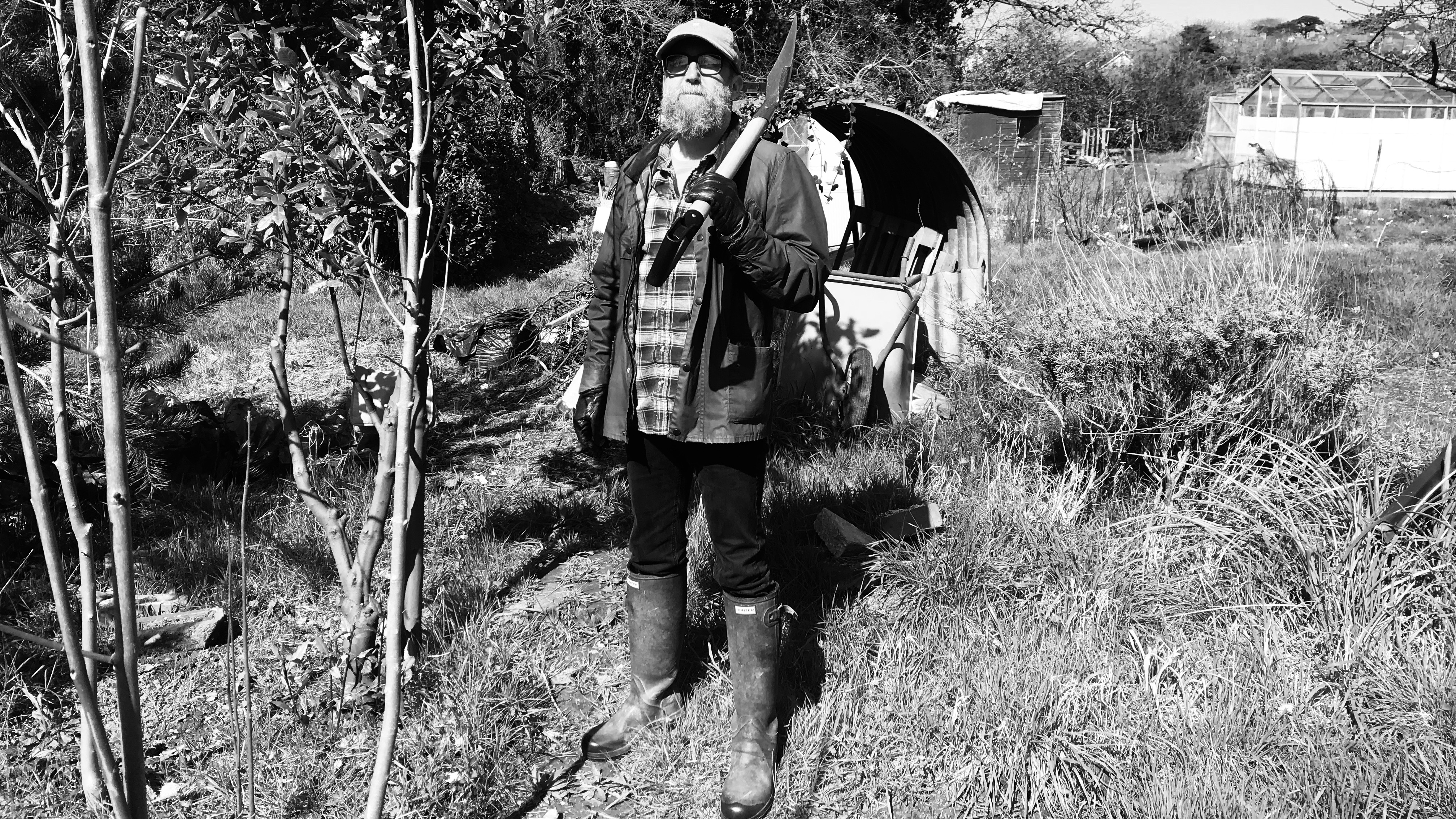 ---